Bad karma was in the air before Saturday night's Kansas-Kansas State men's basketball game at Allen Fieldhouse.
"They locked the frickin' door, so I couldn't get in the fieldhouse. I had to whistle really loud and throw snowballs at (assistant coach) Steve Robinson's window, so he could come down and let me in," said KU coach Roy Williams, stranded in the cold hours before the Jayhawks' 81-64 victory over the Wildcats.
Robinson let his boss inside, but "at that point I didn't feel very good" about the game, the superstitious Williams said.
Hours earlier, KU's coach was left holding dozens of doughnuts he had hoped to deliver to students who had camped out for the game. Camping, however, had been suspended until after the start of a 1 p.m. women's game between KU and Colorado.
"It was a tough day for ol' Roy," Williams deadpanned.
Tough day, but a glorious evening as the Jayhawks (13-3 overall, 3-0 Big 12 Conference) raced to a 15-0 lead over the Wildcats (10-6, 1-2) and were never seriously threatened in claiming their 25th straight victory against the 'Cats.
"We were really good the first few minutes," Williams said.
Kirk Hinrich scored five points and Nick Collison added four as KU hit four of six shots in grabbing a 15-0 lead just 3:39 into the game.
K-State went 0-for-5 with three turnovers in that span.
"The way we came out defensively, I don't think we could have been much better," said Hinrich, who scored 26 points and played 37 minutes without taking a breather. "We scored some easy ones because of the intensity we showed on defense."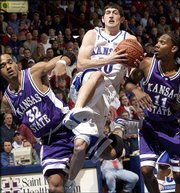 "It was good, hard defense," noted point guard Aaron Miles, who had six assists against two turnovers in 31 minutes. "After that we might have let down some."
K-State took advantage of some early KU foul trouble -- Collison (16 points, six rebounds) and Jeff Graves (13 rebounds, eight points) each had two fouls in the first six minutes -- and used a 13-5 run to slice KU's lead to 20-13 with 11 minutes left in the half.
Hinrich quickly hit a basket and foul shot and Collison slammed a dunk off a nice feed from Graves, righting the ship at 25-13.
KU led 40-30 at halftime, thanks to 12 points from both Collison and Hinrich and defense that forced 12 turnovers and held the 'Cats to 35.7 percent shooting.
Williams said he had to remind his team of the need to put opponents away when they're on the ropes.
"I just had a quick talk with the team. We can't think that the game is over with," he said. "It's not over with. We relaxed a little bit and I think that hurt us."
It may have provided a valuable lesson for the Jayhawks, who after opening up their early 15-point advantage never saw their lead dip below seven.
"We've got to kill everybody, put it down their throats," Miles said.
The Jayhawks opened the second half with buckets from Hinrich and Graves and upped a 10-point lead to 14.
K-State's Gilson DeJesus hit one of his four threes in a 6-0 run that cut the gap to 44-36 at 17:48. But Keith Langford (14 points, 10 second half) scored four points and Collison two to give KU a 14-point lead at 15:59.
KU's lead didn't dip below 13 again.
"After Nick and Jeff got their second fouls, we played more zone and started to manage the clock, things I don't really like to do," Williams said. "It was a workmanlike game, you can call it an ugly game, but we got by with a win.
"K-State had a lot to do with it. We get off to a good start, 15-zip, and they started playing better after that."
KSU was hurt by the foul trouble of Pervis Pasco (10 points, 17 minutes). Still, the Wildcats impressed the Jayhawks, despite hitting just 39.3 percent of their shots and six of 18 threes.
Kansas hit 49.2 percent of its shots, including two of 12 threes.
"They are a lot better than last year," Collison said. "They're a good team. They defend so well, it made it tough to score. It wasn't as pretty a game as we've had. They will be tough to beat in Manhattan."
The rematch is set for Feb. 8 at Bramlage Coliseum in Manhattan, a city where the Jayhawks have won 19 straight games.
"I realize it's going to end some time," Williams said of KU's overall win streak of 25 games versus KSU, "but we try to keep putting it off one day at a time."
KU will travel Wednesday to Colorado for an 8 p.m. tip.
Copyright 2018 The Lawrence Journal-World. All rights reserved. This material may not be published, broadcast, rewritten or redistributed. We strive to uphold our values for every story published.