Haskell Indian Nations University men's basketball coach Melvin Imotichey said his squad's size wouldn't help the Fightin' Indians win, and they've fought bigger bodies all season.
Unfortunately for Haskell, size mattered Saturday when Bellevue (Neb.) University hammered the Indians, 106-63, at Coffin Sports Complex.
"When you play a really good team, your weaknesses are easily exposed," Imotichey said. "And we definitely couldn't disguise our lack of size tonight."
The 17-3 Bruins' post strength was evident in the first half when 6-foot-9 senior T.J. Flanagan tallied 13 of his game-high 19 points. It also showed on the boards, where the Bruins outrebounded Haskell 24-13 for the game.
When the Fightin' Indians packed their defense inside, the outside game opened up for the Bruins. Bellevue sank four of eight from behind the three-point arc, and the Bruins took a 51-24 lead into halftime.
"The biggest thing for us is still size," Imotichey said. "We tried to double the post, but then they lobbed it over the top. And even when we did get our help defense there, they still scored over us."
Haskell (1-13) didn't quit, opening the second half with a three-pointer from Andy Deal and a nifty up-and-under drive by Kenny Lovato.
The 5-0 run would quickly be moot as Bellevue answered with a 13-0 spurt and went ahead 64-29.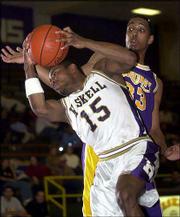 Haskell managed a 6-0 surge, but Bellevue coach Todd Eisner reinserted his starters -- who easily put the game away with a 26-9 run.
The Bruins had five players in double figures, while Deal led the Indians with 17. Lovato, Marcus Oliveria, Leroy Silva and Michael King each added eight.
"Well, the bottom line is we didn't give up," Imotichey said. "We've been dealt the hand we have, and we have to play it."
College of Saint Mary 70, Haskell women 60
The HINU women fared little better than the men, staking the Flames to a 14-point halftime lead. Saint Mary hit 10 three-pointers and survived a 19 percent shooting performance in the second half.
Chelsea Malone led the Flames with 24 points, while Haskell's Melissa Mossett scored 20. Kateri Schaaf added 19 points and Lindsey Hust had 14 for the Indians.
Copyright 2017 The Lawrence Journal-World. All rights reserved. This material may not be published, broadcast, rewritten or redistributed. We strive to uphold our values for every story published.