Some of Dr. Martin Luther King Jr.'s fraternity brothers greeted people as they walked into the Kansas Union ballroom Saturday night.
Members of the Upsilon chapter of Alpha Phi Alpha Fraternity Inc. at Kansas University stood outside the door handing out information about a planned memorial to King in Washington, D.C.
King was a member of the fraternity during his college years at Boston University, and today hundreds of chapters are coordinating an international fund-raising effort for his memorial, said fraternity member Daniel Crenshaw, 21, a KU junior from Wichita.
"We're all about raising awareness," Crenshaw said. "This is a worldwide project. He unified this world."
Inside the ballroom Saturday night was Lawrence's 18th annual Martin Luther King Jr. Banquet Celebration, organized by the Ecumenical Fellowship, Inc.
About 150 people gathered to sing, socialize and eat a dinner that included cherry pie for dessert.
"It's just good to see everybody together and having fun," said Deona Eubanks, 17, a junior at Lawrence High School and a member of Victory Bible Church, 1942 Mass.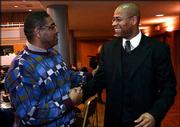 A somber moment came when speaker J.R. Demby, a local mortgage-loan officer, asked all black males in the crowd to stand up.
He cited federal statistics showing that one in 21 black males is likely to be the victim of a violent crime, compared with one in 220 white males.
Today6:30 p.m.: Martin Luther King Jr. Gospel Musical, Free Methodist Church, 3001 Lawrence Ave.Monday11:15 a.m.: Martin Luther King Jr. commemorative service, Lied Center, Kansas University.
"My brothers, times are not good for us, and I want you to latch onto this statistic," he said.
Other speakers included Carl R. Boyd, who runs a company called "The Advice Teacher" in Chandler, Ariz., Lawrence High School Vice Principal Willie L. Amison, and Haskell Indian Nations University President Karen Swisher.
"I can't help but think that the world would be a better place if we remembered to care, to share and to work with one another," Swisher said.
Copyright 2018 The Lawrence Journal-World. All rights reserved. This material may not be published, broadcast, rewritten or redistributed. We strive to uphold our values for every story published.