It's hard to look at Ezra Idlet and Keith Grimwood standing next to each other and not at least smirk.
The acoustic duo that is Trout Fishing in America looks more like the Odd Couple than a harmonious pair. At 6-foot-9, the guitar-picking Idlet towers over his 5-foot-5-inch bassist partner.
The intriguing size differential is just the bait that has been luring faithful audiences to shows since the duo launched Trout Records and began touring and recording music more than 20 years ago. What really has hooked fans, though, is the Grammy-nominated artists' style and appeal to children and adults alike.
Trout Fishing in America (plus one) will play family-oriented tunes like "Junk Food Jump," "Dinosaur in Your Bathtub" and "Baby's Got the Car Keys" during a 7:30 p.m. Friday concert at the Lied Center. The show also will feature multi-instrumentalist Fred Bogert on keyboard, accordion, coronet, electric guitar and mandolin.
The group also will conduct songwriting workshops with Lawrence school children Wednesday, Thursday and Friday.
Trout Fishing in America, named after Richard Brautigan's classic novel from the late 1960s, hooked up while performing together in the mid-'70s in Houston in a folk/rock band called St. Elmo's Fire. They never intended to write music geared toward children, but an invitation to play at a school and the birth of their own kids started putting childlike ideas in their heads.
Like the time Grimwood's son made a crayon drawing on the wall and then blamed it on monsters who had infiltrated the house and, ignoring his son's warnings, colored on the wall anyway. Or the time Idlet's son looked in the mirror and said, "Hey dad, my hair had a party last night."
"I called Keith up and said, 'I don't know how it goes, but here's the title," Idlet said in a phone interview from his home in Prairie Grove, Ark.
Though they often cater to children, Idlet and Grimwood say they don't let their audience's age compromise the quality of their music.
"Even when we started writing songs with kids as subjects, we didn't write down to the kids. We kept writing real songs," Grimwood said. "As the years have gone on and on, it's always been Ezra and I playing for all sorts of audiences. Our real strength is when everybody shows up at the same time -- kids and adults and everybody.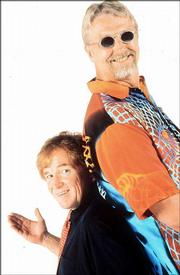 "People always ask, 'Well, what's your audience?' I say, 'Do you have a pulse? Come on out.'"
In 2001, Trout Fishing in America released it 10th CD, "inFINity," following up on the success of 1997's "My World" and 1998's live CD, "Family Music Party." The duo has received 20 national awards for recordings and live performance, including three INDIE Album of the Year awards.
But their toughest audiences aren't old enough to hand out prestigious awards.
What: Trout Fishing in AmericaWhen: 7:30 p.m. FridayWhere: The Lied Center, Kansas UniversityTickets: $27 and $22 for the public, $13.50 and $11 for students and children, $26 and $21 for seniors, and $23 and $18 for KU faculty and staff. Purchase tickets at the Lied Center, 864-ARTS; Murphy Hall, 864-3982; SUA, 864-SHOW; any TicketMaster outlet, (785) 234-4545 and (816) 931-3330; or online at tickets.com or ticketmaster.com.
"It (our music) really needs to be entertaining because if it's not, you will lose their interest. Kids are very honest. They're not polite. Their eyes will wander. They just cannot focus on your show."
"But it's a real good audience, a great barometer of whether you're doing it right or wrong."
And what exactly is Trout Fishing in America doing?
"I just call it folk rock with a dose of humor. That doesn't say much, but it's something to tell a cab driver," Grimwood said.
One thing he can promise: "You will leave feeling better than when you got there."
Copyright 2018 The Lawrence Journal-World. All rights reserved. This material may not be published, broadcast, rewritten or redistributed. We strive to uphold our values for every story published.