St. Paul, Minn. — On a crisp Minnesota morning, Josephine Bronczyk sits at her breakfast table and plucks a strawberry from a plate at her fingertips.
The sweet red berry turns her thoughts to the land outside her kitchen window. For more than 80 years, her family raised bushels of strawberries here, rows of corn and zucchini and a bounty that grows on its own.
"I used to wander around this land just to touch the wildflowers," she reminisced.
A pair of strokes, arthritis, gout, diabetes and glaucoma have chipped away at Josephine's independence. At 86, she moves through her Forest Lake home and its 400 acres in a wheelchair. But for years, she managed nicely here with the help of John Bronczyk, her younger brother.
Then, crisis hit.
The events that followed are grist for a federal lawsuit that seeks to guarantee mentally competent people a constitutional right to stay in their homes unless a judge rules otherwise, even if they are physically incapacitated. The case could set a new standard -- for social workers and family members -- in treatment of frail elders who want to remain at home.
Josephine's story prods each of us to ask: "Will I be able to choose where I live when I get old?"
Harbinger of change
Her saga began when her brother and primary caregiver developed a serious infection and went to a hospital. A niece arrived to check on her relatives. Deb Wertz encountered an aunt who couldn't take care of herself, she says. She called Anoka County (Minn.) Adult Protection.
Social worker Mary Gargaro found Josephine "alert and oriented" but needing help with dressing, toileting, bathing and medications, she wrote in a report dated July 20 and 21, 2001. The conversation turned to nursing-home care.
Josephine repeatedly told Gargaro she didn't want to go to a nursing home, according to the social worker's r eport. Gargaro told Josephine she was entitled by conservatorship law to a court hearing during which she could present her argument to a judge who would decide the matter, says assistant Anoka County attorney Tom Haluska.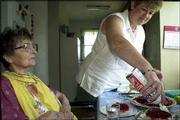 Instead, Josephine eventually agreed to a temporary nursing-home stay, Gargaro's report says. But she believed at the time she had no choice, Josephine says.
"She (Gargaro) said that a judge would take care of making sure ... that I would go to the nursing home," she told her Minneapolis-based lawyer, Erick Kaardal, in a recorded interview.
Gargaro denies she ever put it that way, according to a court affidavit.
That same day, Josephine's niece and a grandniece packed up her wheelchair and duffel bag and moved their aunt to a Roseville, Minn., nursing home.
State of mind
Ruth Miles, a friend and neighbor for almost three decades, describes a Josephine as a strong-willed woman who always made her own decisions. "Josephine is a woman who speaks her mind," Miles said.
At the time of her move to the nursing home, Josephine's niece described her aunt as "not confused but distraught" over her brother's illness.
The social worker considered her "competent but not making appropriate decisions about her care," she wrote in her report.
Wertz said she wanted to help. "She didn't understand what the consequences would be of staying at home," she said of her aunt. "She needed help getting from the wheelchair to the toilet. She didn't regularly take her pills. I didn't think she could take care of herself. What if it was your mom?"
It's a question to seriously ponder, say advocates for the elderly. Bronczyk's case raises not just legal but ethical questions about treatment of frail elders, advocates say.
"This happens to many older people who've made decisions all their lives," says Jean Mulder, a registered nurse and care consultant for Matrix AdvoCare Network, a service providing advocacy and in-home care. "We make decisions for our seniors. We write them off. We say, "They would or wouldn't want this done." I say, let's ask them."
Home care affordable
Josephine saved her money and lived frugally. She could afford round-the-clock care in her home. When her brother got sick, she already was receiving in-home care twice a week.
Gargaro tried to arrange 24-hour care for her client but was told it wasn't available on short notice, according to an affidavit filed in the case. The focus of conversation returned to nursing-home care, according to her report.
Josephine wanted to stay at home but didn't know how to make it happen, her advocates say. Josephine's lawyer says things went too fast. "Josephine had a support system, but it didn't really work," Kaardal said.
In 3 1/2 weeks in a nursing home, Josephine Bronczyk's concern for her ailing brother mixed with fear she had lost control of her life. She will tell you she is a stubborn woman. And she knew a lawyer she could call.
Erick Kardaal told her there was no legal reason she couldn't leave the nursing home if proper care were arranged at home. He contacted Matrix AdvoCare Network. The next day, a care consultant began talking with Josephine, said Lynne Ploetz, the network's president.
"Commonly, people don't know what their options are," Ploetz said. "Very often, they don't plan for typical problems. And once someone gets into a nursing home, it's harder to go home."
A few days later, Josephine's brother died. Her niece took her to Forest Lake to help plan his funeral. Josephine left the nursing facility on a two-day leave.
The next day, she surprised almost everyone. She announced she wasn't going back to the nursing home. Neighbors Ruth Miles and her husband, Glenn, had offered to care for her in their home until modifications to her house were completed. The three of them stopped by Josephine's house for a visit.
"This is my house. This is where I live," she said.
And she plans to stay there, she added.
Copyright 2018 The Lawrence Journal-World. All rights reserved. This material may not be published, broadcast, rewritten or redistributed. We strive to uphold our values for every story published.