Newport, R.I. — The historic Cliff Walk is sophisticated and refined -- with gilded charm and a dash of danger.
The three-and-a-half-mile trail hugs Newport's rocky coastline, with crashing waves and drops of up to 70 feet on one side and palatial estates with manicured landscapes on the other.
It is one of Newport's top attractions, with history and stunning seaside scenery. The trail gets 250,000 visitors a year.
Open only to walkers, joggers and hikers -- no bikes -- the trail runs between the water and the summer estates of the Vanderbilts and Astors on Newport's eastern shore.
What makes the Cliff Walk unique is that it's a National Recreational Trail and lies in a National Historic District. The Cliff Walk begins at the western end of Easton's Beach (Newport's First Beach) at Memorial Boulevard and runs south, with access at major roads.
About two-thirds of the trail is along paved sidewalks, although the southern third is a rough trail over the natural, rocky New England shore. That's the stretch from Ruggles Avenue to Ledge Road. It is the longest stretch with limited access.
The largest mansion along the trail is The Breakers, one of the most famous buildings from Newport's gilded age.
It is a 70-room mansion built for Cornelius Vanderbilt II, patriarch of America's wealthiest family.
The Italian Renaissance-style palace, designed by America's leading architect of the day, Richard Morris Hunt, features rich marbles and gilded rooms with open-air terraces offering magnificent ocean views.
The Breakers -- the largest and most ornate building in Newport -- required 200 builders who worked on it from 1893 to 1895.
It is known for its symmetry of design, opulence and lavish use of alabaster, marble, mosaics and antique woods.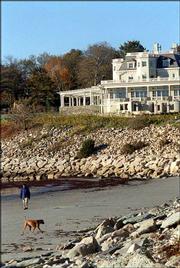 Its Great Hall is 45 feet high and has a staircase with velvet carpeting.
The estate includes an outdoor playhouse for the children that is more like a full-scale house.
The four-story building also has an open-air loggia, complete with delicate mosaic artwork on the ceiling and palms and wicker.
It is open for public tours through the Preservation Society of Newport County. That group is in a $2 million project to replace the roof of the building, which is a National Historic Landmark.
Millionaire's row
One of the most beautiful sections of the trail -- at least for its architecture -- is the three-quarter-mile stretch between Narragansett Avenue and Ruggles Avenue. That includes four waterfront mansions that are today part of Salve Regina University: Ochre Point, Ochre Court, Cave Cliff and Vineland.
Ochre Court, a Gothic French chateau, is second in size and grandeur only to The Breakers.
Angelsea at the end of Ruggles Avenue is a striking Victorian cottage built in 1879 by Gen. Pierson, a Civil War veteran. His wife had made a fortune, thanks to Ayers Sarsaparilla and Cherry Pectoral bottled sodas.
Farther south are three equally impressive mansions almost side by side:
Rosecliff, which has the largest ballroom in Newport and was featured in the movies "The Great Gatsby" and "True Lies." It was built in 1902 as a party pavilion for Nevada silver heiress Tessie Oelrichs.
Marble House, an opulent, Greek-style palace built in 1892 for Alva Vanderbilt. It required 700,000 cubic feet of imported marble.
Marble House was patterned after Marie Antoinette's Petit Trianon in Versailles.
Each room is finished in a different style, and the building is generally considered either lavishly ornate or just ostentatious.
The Gothic Room, for example, has stained-glass windows, and the Gold Room is lined with golf leaf and has an elaborately carved ceiling and walls.
At the cliff is an ornate Japanese Teahouse. The trail now runs under the building via a tunnel. The mansion was built for Alva on her 39th birthday and employed a staff of 36 during the six weeks a year it was occupied.
Both Rosecliff and Marble House are open to the public for tours through the Preservation Society of Newport County.
The Beechwood is an Italianesque villa owned by William Jr. and Caroline Astor, who preferred to be known as The Mrs. Astor. The queen of American society also devised America's first social register.
The couple bought the house in 1881, spent $2 million to renovate it and stayed in it eight weeks a year.
The relatively modest mansion was the summer social center of New York high society for 25 years. It was the site of Mrs. Astor's Summer Ball, the biggest social event in Newport.
Today the Beechwood is open for tours with costumed guides. It is open daily from mid-May through mid-December and on weekends from February through mid-May.
For information, write to Beechwood, 580 Bellevue Ave., Newport, RI 02840; (401) 846-3772, or go to www.astors-beechwood.com.
Resort history
Along the Cliff Walk, the Forty Steps at the end of Narragansett Avenue is a striking lookout that drops two-thirds of the way down the cliff.
It was, in its day, a gathering place of the mansions' servants and workers. They would have outdoor dances there and play Irish songs that reminded them of home.
Newport's first resort hotel, the Ocean House, was built in 1844.
By 1852, a dozen summer homes or cottages were built along the eastern shore. That led to the beginnings of the Cliff Walk and to Newport's reputation as America's first resort.
The Cliff Walk does have its wild side. Storms, waves, high tides and shoreline erosion can make it risky. There have been fatalities.
For more information on tours, contact the Preservation Society of Newport County at 424 Bellevue Ave., Newport R.I. 02840; (401) 847-1000; www.NewportMansions.org.The nonprofit group with 11 historic properties on 80 acres of parks and gardens offers an array of walking and historic tours of Newport and its mansions throughout the year.That includes guided and do-it-yourself tours with audio tapes.A ticket to tour five mansions costs $31 for adults and $10 for children 6 to 17. A tour of The Breakers and one other mansion costs $22 for adults and $6 for youngsters. A tour of The Breakers only costs $15 for adults and $4 for youngsters.The Breakers is open daily year-round, except for Thanksgiving, Christmas Eve and Christmas. Two other mansions -- The Elms and Marble House -- are open on weekends from January through April. Five mansions -- The Breakers, The Elms, Marble House, Rosecliff and Chateau Sur-Mer -- will be open April 12 through May 16. All 11 mansions will be open daily from May 17 through Oct. 3. From Oct. 14 to Nov. 3, the five big mansions will be open. From Nov. 3 to Dec. 31, the three mansions will be open.A walking tour of Bellevue Avenue -- the center of Newport's historic district -- is offered Thursdays through Sundays from May through October.You can also get a description of the Cliff Walk at www.cliffwalk.com. It is a site put together by two Newport businesses. Information is available from Friends of the Waterfront, P.O. Box 932, Newport R.I. 02840.You can also contact the Newport County Convention and Visitor's Bureau, 23 America's Cup Ave., Newport R.I. 02840; (401) 849-8048 or (800) 326-6030; is www.gonewport.com. Check out guided walking tours offered by Newport 101 Walking Tour, 270 Bellevue Ave. No. 321, Newport R.I. 02840; (401) 841-8600; www.newportwalks.com.
Copyright 2018 The Lawrence Journal-World. All rights reserved. This material may not be published, broadcast, rewritten or redistributed. We strive to uphold our values for every story published.