After two years of playing for the Kansas University baseball team and residing at the bottom of the Big 12 Conference standings, junior outfielder Matt Tribble is ready to surprise some people.
Not personally -- Tribble has been a good hitter for years and was drafted by the Chicago Cubs out of high school -- but as a team. With a new head coach and a new philosophy at the plate, Tribble thinks the Jayhawks could reach the postseason for the first time since 1996.
"I don't think I have too many personal goals. ... I just want this team to win," Tribble said. "I came here with the intention to help Kansas make the tournament, help Kansas improve, and so far we're working toward that. I want to make the tournament bad. That's why I came here. Our goals are team goals ,and we definitely want to prove people wrong."
If Kansas is to turn around the past five seasons of sub-.500 baseball, Tribble will have to play a major part. Despite missing more than two weeks last season because of a shoulder injury, Tribble led the team with four triples, was second with 56 hits and six home runs, third with a .318 batting average and 91 total bases, and fourth with 36 RBI.
First-year head coach Ritch Price said Tribble could bat anywhere from leadoff to the five spot. Wherever he bats, Tribble will be expected to create a lot of offense.
"I'd like to see him be more physical with the bat and drive in more runs," Price said. "I've thought about leading him off, as well, but I really like his bat in the middle of our lineup."
Price said he liked Tribble's defense in the middle of the field, as well. After spending most of last year in right field, Tribble will start the 2003 season in center field. While not blessed with the speed of fellow Jayhawk centerfielders Lance Hayes or Jason Appuhn, Tribble said he enjoyed playing center field and felt he gets better jumps on fly balls while playing the position.
The move to center is just one of the touches Price has put on this team that pleases Tribble. Price also has brought a new offensive outlook to the Jayhawks, focusing on extra-base hits and shorter, more compact swings to try to generate power.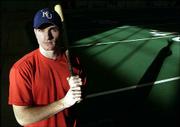 "You can't go into a game and just hit 10 singles and expect to win," Tribble said. "You need to be hitting doubles and potential three-run home runs and put some runs on the board. Pitching and defense win games, but with an aluminum bat, it's tough to keep runs to a minimum. We've definitely come in looking forward to hitting with more power."
Putting up big power numbers this season could lead to Tribble being drafted again. A native of the Chicago suburb of Wheaton, Ill., Tribble was a 15th-round selection by his hometown Cubs in the 2000 MLB draft.
He chose to attend Kansas, instead, and said his White Sox bias had nothing to do with it.
"It was definitely a thrill to be drafted by your hometown team," Tribble said, "but ultimately I knew that getting an education was what I wanted to do."
Although he appreciates the experience he's gained playing college baseball, Tribble isn't against jumping to the pros after this season if the opportunity presents itself.
"I'm not really looking into the future right now. Hopefully if that chance comes, I'll have a tough decision to make again," he said, "but I think that if it was to happen I'd definitely entertain that idea."
Before he can worry about the big leagues, though, Tribble has to focus on helping Kansas make the Big 12 tournament for the first time. The Jayhawks open the season Jan. 24 at Hawaii-Hilo; KU's first Big 12 contest is March 21 at Missouri.
"We're all going out there looking forward to turning a lot of heads, making the tournament," he said. "I know a lot of people are probably doubting us ... but we're definitely looking forward to getting off to a good start and playing as well as we can. In the fall we were hitting the ball really well, playing defense extremely hard and I'm looking forward to it. It's going to be a lot of fun."
Copyright 2017 The Lawrence Journal-World. All rights reserved. This material may not be published, broadcast, rewritten or redistributed. We strive to uphold our values for every story published.