As if the Ogallala Aquifer wasn't drying up quickly enough, drought is making the situation worse.
Kansas University scientists who just returned from western Kansas say farmers there are pumping their wells more than normal to make up for the sustained lack of rain and snow.
"It accelerates the depletion, no question about it," said Rex Buchanan, associate director of the Kansas Geological Survey at Kansas University.
Eight KU scientists spent Jan. 6-11 measuring the water levels of 500 wells in western and central Kansas that draw from the Ogallala Aquifer, a massive underground reservoir that stretches across eight states. Scientists from the state's Division of Water Resources measured an additional 700 wells in the area.
Rural irrigation in western Kansas has been drawing water from the aquifer faster than nature can replace it, and in some areas the aquifer has dried out. Two years ago, then-Gov. Bill Graves set the goal of zero depletion of the aquifer in Kansas; in other words, not taking anymore water out of the aquifer than is naturally replaced. That goal has been opposed by farmers and western Kansas lawmakers.
Buchanan said an early analysis of the latest measurements showed that, because of the drought, water levels were dropping faster than they had in the last decade.
"What happens when it gets dry, people pump more, so they're drawing on it more," Buchanan said. "These numbers clearly show the issue of depletion of the Ogallala is out there, and it's as pressing or more pressing as it has been."
State Sen. Stan Clark, R-Oakley, was on the legislative committee that examined the aquifer's administration. He said the accelerated depletion was further evidence that water use in western Kansas must be reduced.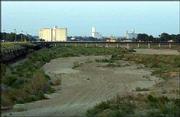 "We have an economy that's based on receiving 36 inches of rain a year when they get closer to 20," he said. "Quite honestly, we need to move to an economy that doesn't require the Ogallala, and we must begin that separation soon."
State Rep. Carl Holmes, R-Liberal, also served on the committee. He said that efforts to reduce water usage should be aimed first at users who are taking more water than they should -- and that the whole state, not just western Kansas, should share the burden of conservation.
"We've got programs that encourage conservation, and we need to encourage conservation more," Holmes said.
Buchanan said the political issues surrounding water use will reverberate throughout Kansas.
"I don't think there's any question this is a really crucial issue," he said. "The changes in irrigation out there are going to have effects across the entire state."
Buchanan said a detailed analysis of the measurements would be available in late spring.
Copyright 2018 The Lawrence Journal-World. All rights reserved. This material may not be published, broadcast, rewritten or redistributed. We strive to uphold our values for every story published.