Arvid Grover sang patriotic tunes to sell war bonds during the 1940s, but he never landed his dream gig -- to sing the national anthem at a Kansas University basketball game.
That will change Wednesday, when the 80-year-old Lawrence man belts out "The Star-Spangled Banner" before the Jayhawks' game against Wyoming.
"I always wanted to do it," he said. "It's a big honor. I'm lucky to still be alive."
Grover grew up in Lawrence and attended Oread High School on the KU campus from 1937 to 1941. He attended one semester at KU before the bombing of Pearl Harbor convinced him to enlist in the Navy.
He served stints in Africa and Sicily before returning the next year to the United States to attend officer training in St. Paul, Minn.
There the Navy recruited him to sing "God Bless America," "Anchors Aweigh" and other patriotic songs at rallies to sell war bonds. He also occasionally sang jazz standards with the bands at USO shows in St. Paul.
Grover spent most of his life in Milwaukee, Wis., where he worked in the composition department of the Milwaukee Journal Sentinel. He retired in 1981 and has survived a heart attack, quadruple bypass surgery and operations on his back, neck and knees.
He returned to Lawrence in 1999, the year after his wife of 52 years died.
Grover's recent performances have been limited to singing "Happy Birthday" to the friends he plays bingo with at the Knights of Columbus, Eagles Lodge and American Legion. But his interest in singing at KU games was sparked again while golfing with KU coach Roy Williams at Alvamar Country Club, where Grover serves as a marshal.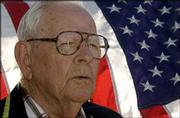 So Grover -- along with 30 other singers, mostly KU students -- auditioned in October for Tom Stidham, who directs KU's basketball band.
"I thought, 'Boy, I don't have a chance,'" Grover said.
But Stidham gave the 80-year-old the nod.
"His voice was fine, his story was unique and his desire to do this was overwhelming," Stidham said. "I said, 'What the heck. It's good for us all.'"
Stidham said most of the pregame performers at games were KU students, but he reserves one game a year for an outside performer. Last year, that was flugelhorn player Ron McCurdy, president of the International Association of Jazz Educators. Before that, it was Lillian Sengpiehl, a KU alumna who now is an opera singer in New York.
That puts Grover in good company.
"He sings very well," Stidham said. "His voice kind of sounds like an 80-year-old voice, but he's got a good 80-year-old voice. It's amazing how excited he is about it. It's apparently a lifelong dream."
Grover said he won't be nervous Wednesday night. After all, he has sung the national anthem and alma mater every day since he won his audition in October.
"Why would I be nervous? I'm 80 years old," he said. "I've got the chords to do it. I can belt it out."
Copyright 2018 The Lawrence Journal-World. All rights reserved. This material may not be published, broadcast, rewritten or redistributed. We strive to uphold our values for every story published.