Topeka — Some consider it a massive "white elephant."
To others the vacant Security Benefit Group building in the shadow of the Kansas Statehouse is a 14-story monument to cronyism -- or bad judgment.
"As it stands now, we don't have the funds to do the remodeling, so it's over there sitting empty," said Rep. John Ballou, R-Gardner, a member of the Joint Committee on State Building Construction. "I don't see that changing anytime soon, so I don't see the benefit in it -- we've got a building we can't afford and that nobody else'll buy."
As Gov. Bill Graves leaves for his new job as a trucking association president in Washington, D.C., he leaves behind a state in budget crisis and a fresh cluster of taxpayer-owned buildings, including Security Benefit, adjoining or near the Statehouse.
Perhaps few Kansans will miss the departing governor more than his good buddy former Secretary of State Jack Brier.
Brier was the go-between for the state's purchase of the Security Benefit building.
Brier also landed a couple of plum appointments from Graves, including the presidency of the agency that would finance the Security Benefit building purchase.
'I hired Bill Graves'
Long active in Republican politics, Brier gave Graves his first job in state government, helped in his gubernatorial campaigns and led the campaign that raised $2 million for renovations at Cedar Crest, the governor's mansion. Brier was master of ceremonies at Graves' inauguration. Brier also is close friends with former Secretary of Administration Dan Stanley, the Graves administration's point man for the purchase of Security Benefit and most other state building deals.
"I hired Bill Graves in 1980, I watched him grow, and I'm extremely proud when he calls me a mentor," Brier told the Journal-World.
The friendship, political insiders say, has served Brier well.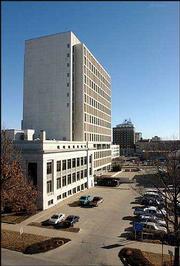 "Jack Brier is well-connected in the Graves administration, and I think it's safe to say he maximized those connections," said Sen. Jim Barone, D-Frontenac, also a member of the Joint Committee on State Building Construction.
Barone points to Brier's behind-the-scenes role in the state's decision to buy the Security Benefit building for $18.5 million, the most the state ever paid for an existing building.
The building is one block north of the Capitol.
Brier, who's neither an attorney nor a licensed Realtor, worked as a consultant for Security Benefit.
A private deal?
Company officials declined to say how much Brier was paid.
"We don't feel compelled to share that information," said Security Benefit spokeswoman Michele Cole. "It wasn't a public transaction."
Brier, too, declined to say how much he was paid.
"I worked for them, so it would be inappropriate for me to comment," he said, adding that most of his time was spent scouting downtown sites for a new building Security Benefit intended to build.
Though the purchase of the Security Benefit building sailed through the Joint Committee on State Building Construction, it riled some legislators who learned too late that three state-hired appraisers said the building was worth between $12 million and $14 million, and that the $18.5 million figure was a compromise between an average of the three appraisals and a $25 million appraisal from an appraiser hired by Security Benefit.
At the time, the building was listed on Shawnee County tax rolls for $8.9 million.
"A lot of people now, I think, realize that buying the Security Benefit building wasn't all that wise a decision because of the differences in the appraisals and because of all the renovation -- asbestos removal in particular -- that's going to have to be done. Plus, I don't think we need that much room," said Senate Minority Leader Anthony Hensley, D-Topeka. "It's turned into a white elephant."
His state jobs
Though it's not clear when, lawmakers expect to spend $10.8 million on renovation work, roof replacement and asbestos removal.
Plans call for the Kansas Department of Transportation eventually to occupy the building, vacating the 3 1/2 floors it now occupies in the Docking State Office Building across the street from the Capitol, and four floors in the nearby Thacher Building.
Bonds for the purchase of the Security Benefit building were issued by the Kansas Development Finance Authority.
Six months after the state bought the building, completing the deal in December 1999, Graves named Brier president of the Finance Authority.
For that job, Brier is paid an annual salary of $101,000 -- $23,000 more than his predecessor was paid.
It isn't yet clear whether Brier will keep the job under the incoming administration of Gov. Kathleen Sebelius.
"That post is definitely one she's looking at," said Sebelius spokeswoman Nicole Corcoran-Basso. "But it would be premature to make a statement on it at this time."
In October 2000, Graves appointed Brier to a seat on the Kansas Turnpike Authority. That job doesn't include a salary, but offers other perks, including a lifetime pass for the turnpike.
Other Brier deals
In November 2000, an investment group that included Brier approached administration officials about buying the six-story New England Building in downtown Topeka for $6.3 million.
According to financial disclosure records, Brier had a 34 percent equity stake in the building.
Legislators balked at the price tag after a state-hired appraiser said the building was worth $5.5 million. At the time, the building was listed on the Shawnee County tax rolls for $3.9 million.
Unable to break the deadlock, administration officials signed 13- and 15-year leases on the building, which houses the Department on Aging's central office and a computer center for the Department of Social and Rehabilitation Services.
Those leases irked owners of other downtown properties who had tried unsuccessfully for years to wrangle leases from the state longer than one or two years. None who spoke with the Journal-World wanted their names used in print, saying they did not want to risk offending those involved in carrying out the decision.
After the rent-vs.-buy dispute over the New England Building, Stanley's successor as secretary of administration, Joyce Glasscock, hired a Boston company to design a software package that future administrations could use to weigh proposals' costs and benefits.
"That's going to help a lot," Ballou said. "The software confirmed that buying the New England Building was not in the state's best interest."
Rent-vs.-buy lawsuit
Brier also had a hand in construction of a $4.1 million maintenance and storage facility for the Kansas Highway Patrol in 2001.
Brier and other investors assumed the state would rent the new building for at least a year before buying it for $4.1 million, an arrangement approved by Stanley.
But after Stanley resigned in September 2001 to accept a position with the U.S. Department of Defense in Washington, D.C., his successor, Glasscock, nixed the deal, saying it was in the state's best interest to buy the building outright.
Kansas Development Finance Authority issued bonds to finance the purchase after the state ethics commission ruled Brier's role at the authority did not pose a conflict of interest. That was because the transaction was not between the authority and Brier's partners; instead it was between the Highway Patrol and the partners.
But the partnership, arguing it had made a deal with Stanley, refused to sell the building until after it was paid a year's rent, about $490,000.
Unable to strike a compromise, the Highway Patrol sued the partnership in November 2001. Shawnee County District Judge Eric Rosen is expected to rule on the case this week.
Brier owns 70 percent of a partnership that owns 30 percent of the total project.
Denials
Glasscock declined a Journal-World request for an on-the-record interview about the building deals, noting she could not comment during a lawsuit and that it would be inappropriate for her to criticize Brier, Stanley or Graves.
But Stanley bristled when asked if Brier somehow benefited from his friendships with Stanley and Graves.
"The fact that Jack Brier is a friend of the governor doesn't have anything to do with any of this," Stanley said. "You can't swing a dead cat without hitting a 'friend of the governor's.' It doesn't matter who you're dealing with, somebody's going to point to them and say they're a friend of the governor's."
Stanley said he negotiated the Security Benefit building purchase with company president Howard Fricke, whom Sebelius recently picked to be her secretary of administration.
"Jack Brier was not that influential," Stanley said. "It was Fricke and I who went to the joint building committee -- this was all worked out by my attorneys working with his attorneys."
Stanley dismissed assertions the state paid too much for the building, saying the three state-hired appraisals were "too low" while Security Benefit's was "too high."
"Appraisals are a 'black art,'" he said. "That's why you always try to get at least three."
Stanley said the $18.5 million price tag was reasonable.
He said he approved long-term leases for the New England Building because the owners had "gone in, gutted it -- took it down to the bones -- made it new, and designed (it) to suit" its tenants.
Owners of other nearby buildings, he said, want long-term leases on "junk" but resist comparable improvements.
And, he said, it made sense for the Kansas Highway Patrol to rent its building for a year to guard against unforeseen defects.
"I never bent over backward to do anything special for Jack Brier," Stanley said.
But he acknowledged he, Brier and Graves are close friends, noting that his wedding last year was held at Cedar Crest and the post-ceremony reception was at Brier's house.
Influence peddling?
Brier said his business had not benefited from his friendship with Stanley or Graves.
"If somebody's saying that, I'd laugh at the absurdity of the charges," he said, adding, "I guess I'd have to ask, why -- if I'm such a good friend of the governor's -- am I being sued by his administration? It doesn't make sense, it's absurd."
Much of what's driving his critics, Brier said, is the fact that Topeka "is a small town in which a small circle of developers is competing for the same slice of a business pie that isn't increasing."
Graves didn't want to talk about it.
"The governor doesn't have anything new to stay about his relationship with Mr. Brier," said Ben Bauman, a spokesman.
In past interviews, Graves has said that Brier has been treated the same as any other contractor seeking state business.
Hensley disputed Stanley's and Brier's versions of events, saying the two were well-practiced in the art of peddling influence and creating smoke screens.
"I'm not going to say they did anything illegal, but I think it's pretty clear that Mr. Brier had access to the Governor's Office and that he used that access to make money," Hensley said. "I don't know how we change state law to prevent this kind of thing, but I'm certainly going to find out."
Copyright 2018 The Lawrence Journal-World. All rights reserved. This material may not be published, broadcast, rewritten or redistributed. We strive to uphold our values for every story published.