The spray-painted notice went up in September on a North Lawrence garage door: Wizard of Wood.
On nice days since then, passersby may have spied the new tenant at Harold and Jo's Antiques, chipping away at blocks of redwood, walnut and pine in front of his studio while an 8-foot-high, flaming red idol wearing a headdress and cloaked in mandalas looked on.
"Now and then, some person wants to hang around and talk," says Julian Harr as he mills through his work space, packed with carved wooden sculptures -- displayed indoors on this chilly winter day.
If appearances always revealed reality, one might assume Harr was a well-traveled artist. The headdress-bearing idol, upon closer examination, is Harr's portrait of the 14th Dalai Lama. The sculpture's painted wooden mask opens down the middle, and His Holiness's smiling face peers from within. Nearby, a carved Mayan Indian is sandwiched between a snarling dragon god and a depiction of Christ emerging from his belly.
It's not that Harr has journeyed to South America or Asia.
"I've only been to Mexico," he says. "That is hardly globetrotting."
But a mentor once introduced Harr to Buddhism and taught him to listen, be perceptive, infuse his art with something more than fine craft.
"Making the objects has more to do with a world view, philosophy," says Harr, who moved to Lawrence from Chicago in September.
That's not to say that they're not crafted with care. He recently began carving wooden furniture -- he's finishing a western-style table and four benches in what he calls his "Tom Mix series" -- because his other work isn't selling in Lawrence and "cowboys and Indians are big here." Even if you don't care for the western motif, Harr's fine workmanship is evident.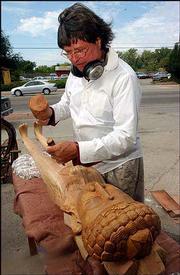 "I like to do a really good job so when I sign it, they know that somebody who cares made it. I made this to last forever," he says, running his hand across one of the benches. "A really huge person could sit on it and not smash it."
Farm roots
Harr's ideas sprout from knowledge he gleans from conversations, TV programs, books and his wife, Paula, who travels extensively as head of customs for Payless ShoeSource. And once, during an extended acid trip, he drew some fairly profound conclusions about the world that continue to inform his work.
"For three days, I just carved and listened to Bach," Harr says. He concluded that "our world view depends so much on what everybody around us is doing that we don't invent the world, the world invents us. That has led to a lot of good ideas in my sculpture."
Most of Harr's work doesn't readily give away his roots. He grew up in the 1940s and '50s on a farm in the foothills of the Cascade Mountains, tending chickens. From Roseburg, Ore., he traversed to Eugene and the University of Oregon, where he graduated with a degree in mathematics in 1956.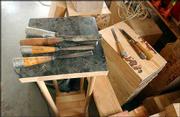 Though he was good at math, it didn't capture his imagination. At a loss for what would, he stuck out his thumb and hit the road.
He hitchhiked to San Francisco, but Allen Ginsberg and the rest of the Beatniks were gone. He headed cross country with a German man who was on his way to Chicago to cash in on the urban removal movement. Once-grand mansions were giving way to skyscrapers, and scavengers like Harr and his friend salvaged the treasures left inside houses slated for demolition and sold them to antique dealers.
Occasionally, Harr would hang on to, say, a collection of wooden spindles and glue them together to create a chair. So he got his start in wood with furniture making.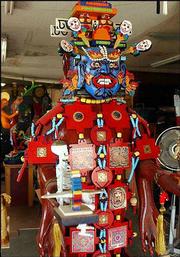 Life as university
It wasn't long before Harr discovered the artist colony around the corner from where he was staying on Chicago's north side. After some persuading, a wood carver named David Nyvall agreed to take on Harr as an apprentice.
He started off as something of a lackey, sharpening Nyvall's tools. But the artist gradually taught Harr the wood-carving craft.
Harr uses hand tools and power tools to carve scraps of wood he finds or that friends give to him. He coats some of them with varnish, letting the natural wood show through. Others he paints in bright hues. He uses wood pegs -- never nails -- to join pieces of wood.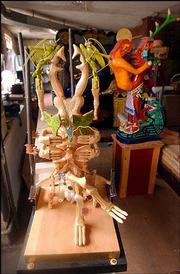 After more than three decades of wielding chisels, gouges and wooden mallets, the process has become second nature to Harr. Which allows him to focus more on the ideas behind the art.
Though he credits Nyvall with imparting skill, Harr says his life journey has been the best teacher.
"All artists are self-taught," he says. "Life is the university that really matters. The people you meet along the way are the interesting ones. You can't make art without becoming a human being."
Harr has spread his vision of humanity across the country. He has lived and worked in Chicago; Oakland, Calif.; Berkeley, Calif.; Portland, Maine; Hoboken, N.J.; and now Lawrence, which he describes as the Berkeley of the Midwest.
Name: Julian HarrAge: 61Hometown: Roseburg, Ore.Education: Degree in mathematics from University of Oregon, Eugene. Apprenticed under wood carver David Nyvall, who was educated at Cranbrook Academy of Art in Bloomfield Hills, Mich.Medium: Wood carved sculptures and furniture. Themes in his work vary from religion to history to science to pop culture.Studio: You can view and purchase Harr's sculptures and furniture at his studio, on the north end of the building that houses Harold and Jo's Antiques, 628 N. Second St.
Kansans' reactions to his work have varied. Some find it intriguing. Others react with offense. One woman interpreted his depiction of the melding of Mayan and Catholic religions during the Spanish settlement of the Yucatan Peninsula as sacrilegious -- she thought it looked as though Christ was coming out of the Mayan Indian's penis.
"I don't necessarily make beautiful objects. I have made objects that have made people nervous," Harr admits. "I don't want the status quo to exist without being challenged. I won't let people get away with not being everything they can be and trying hard to make the world better."
.
Copyright 2018 The Lawrence Journal-World. All rights reserved. This material may not be published, broadcast, rewritten or redistributed. We strive to uphold our values for every story published.