Had there been an applause meter in the basement meeting room of the 11th Street community center Saturday morning, former Mayor Marci Francisco would have been Lawrence's newest state representative.
Instead, nine ballots from 15 cast by Democratic precinct delegates decided Paul Davis would fill the 46th House District seat emptied by Rep. Troy Findley to take a job with Gov. Kathleen Sebelius.
Davis won on the first ballot despite grumblings from some Francisco supporters peeved because Davis doesn't yet live in the district.
"Marci lives in the 46th Dist!" read signs carried by Francisco supporters among the party activists and observers seated in three rows of folding chairs slightly behind the two rows of voting delegates.
Davis, a 30-year-old Lawrence native, has a house at 1526 Stratford Road, which is in the adjoining 44th House District.
After Findley announced he was leaving the Legislature, Davis said he and his wife, Shelley, would move to 1527 Mass., which is nearby but within the 46th District.
In his speech prior to the vote, Davis told delegates the squawk over his address shouldn't matter.
He said he was a "lifelong" Lawrence resident who "lived in the district before" and was "very committed to the district," which includes the Oread Neighborhood.
Davis had the backing of Findley and others whom Francisco supporters privately described as the "establishment" or "check-writing" wing of the local Democratic party.
Findley is leaving the seat after eight years to be legislative liaison for Sebelius.
Francisco, a former Lawrence mayor and longtime community activist, was the favorite of the party's grassroots, or more liberal, faction. Allen Levine and Jason Fizell, who earlier expressed interest in the seat, withdrew as candidates to support Francisco.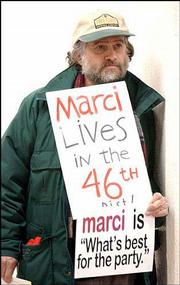 "There's a struggle in the party between what I'd call the new guard and old guard and between a less moderate and more moderate contingency," said one party activist who asked not to be identified. "It's an old versus new, Clinton Democrats versus Kennedy Democrats kind of deal."
Davis, who worked a year at the state insurance department for Sebelius before taking a job three years ago as lobbyist for the Kansas Bar Assn., is seen as a "new guard" or "Clinton" Democrat expected to work easily with the Sebelius administration.
"I was there to watch Democrats struggle with democracy," said Carrie Lindsey, a precinct committee woman in the 45th District. Lindsey, a Francisco supporter, was among the observers.
The meeting to replace Findley took only 30 minutes. Findley, himself a voting delegate, nominated Davis and was seconded by Allison Gallaway.
Findley told the crowd Davis would have "instant credibility at the Statehouse."
Francisco, also a voting delegate, was nominated by Caroljean Brune.
"If you've lived in Lawrence any amount of time, you know Marci," Brune said.
Brune's motion was seconded by Carol Renzulli.
Then 15 of 16 eligible delegates wrote their choices on small slips of canary yellow paper. The 16th delegate was out of town and couldn't cast a proxy vote, party officials said.
The ballots were collected in a small wicker basket by Douglas County Democratic Party vice chairman Jameson Shew. Shew sorted the ballots as school board member Jack Davidson counted them. Davis received nine votes; Francisco, 6.
Polite applause came after the announced results. Davis thanked the crowd of about 50 people and said nice things about Francisco.
Then Francisco said her piece:
"Paul, I'd like to welcome you to our district and our neighborhood. Oread Association dues are only $1."
Copyright 2018 The Lawrence Journal-World. All rights reserved. This material may not be published, broadcast, rewritten or redistributed. We strive to uphold our values for every story published.