A week of treatment seems to have helped Wayne Simien's ailing right shoulder.
"They (doctors) are seeing some healing," Kansas basketball coach Roy Williams said Friday afternoon after the sophomore power forward, who dislocated his right shoulder a week ago today, returned from a medical examination.
"For 10 days to two weeks we will work on range of motion. Then they will make another determination. This kind of injury you just have to wait and see what the body is doing, how much healing is taking place."
With 10 days to two weeks before the next exam, one can conclude the 6-foot-9, 255-pounder definitely will miss KU's next four games -- Nebraska, Wyoming, Kansas State and Colorado -- with the Jan. 25 and 27 games against Arizona and Texas in question.
Nothing on the tests thus far have indicated Simien will need surgery, like he had after separating his right shoulder twice his senior year of high school.
"He did dribble the ball at practice this morning. I don't need him dribbling, but I'm glad he's working on some phase of his game," Williams quipped. "We've got to let nature take its course. The best-case scenario -- and this is just a guess -- is in 10 days to two weeks he'll be able to raise it (arm) to do some shooting."
Simien is able to condition despite the fact he can't lift his right arm over his head.
"He can do anything that doesn't involve movement of the shoulder," Williams said. "He did some of the stretching stuff with us this past week, jogging before practice and skipping. He's been doing all that."
¢
Masked man: Keith Langford, who had his nose set by doctors on Monday, will wear a mask in today's game against Nebraska (12:45 p.m., Allen Fieldhouse). Langford broke his nose at practice on Dec. 27.
"He's practiced with it and doesn't like it. He's trying to adjust to it," Williams said of the plastic mask. "Right now he would rather not wear it but doctors think it would be best for him to do it. I'm not giving him a choice. I'm making him wear it.
"Nobody wants to wear it after you have it on for five minutes. Some guys do get more used to it than others. We're trying to force him to at least give it a chance. If he were to throw a ruckus about it he'd probably have some say in it."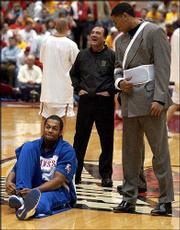 ¢
Niang back on Sunday: Freshman Moulaye Niang, who returned to Senegal last Sunday for his dad's funeral, is slated to return to Lawrence on Sunday.
"We let him leave the game early last Saturday. It's a shame because they canceled one of his flights and he left Sunday because of that," Williams said. "Because of that we extended it a day."
Niang flew from Kansas City to Cincinnati, then Cincinnati to London where he had a 10-hour layover. He flew from London to Senegal.
¢
Fan club: Ex-Jayhawk Drew Gooden is setting up a fan club known as Club Zero. To join, access Gooden's Website drewgooden.net. Proceeds from the fan club membership fees will benefit charities in Kansas, Memphis and California.
"Oh man, I'm a fan of Drew's, but I don't have to be in a club to be a fan," quipped soph point guard Aaron Miles.
Copyright 2017 The Lawrence Journal-World. All rights reserved. This material may not be published, broadcast, rewritten or redistributed. We strive to uphold our values for every story published.