Philadelphia — The New York Knicks set a franchise record for three-pointers in a game, but had to survive a late scare to win Friday night.
Charlie Ward made a crucial three-pointer with 31 seconds left, one of New York's club-record 16, and Allan Houston knocked the ball away from Allen Iverson on a potential game-tying shot in the final seconds as the Knicks defeated the Philadelphia 76ers, 114-112.
With Philadelphia trailing 114-111, Iverson made a free throw with 3.1 left but missed the second one intentionally. He grabbed the loose ball, but his 18-footer was knocked away by Houston.
"I just saw him catch the ball and I think he slipped a little and that enabled me to get there," said Houston, who scored 31 points. "It was a scary moment because it looked like he would get an open look."
The Knicks made six free throws in the final 24 seconds, including three by Ward, to snap a three-game losing streak.
The loss extended the 76ers' skid to five in a row -- including three at home -- and 13 of their last 17.
"Sometimes when things go bad, they really go bad," said Aaron McKie, who had 16 points for the 76ers. "Eventually, I hope things start going our way."
Pacers 101, Magic 97, OT
Orlando, Fla. -- Jermaine O'Neal scored 21 points and Ron Artest hit two game-clinching free throws with 14.6 seconds left in overtime as Indiana rallied for its third straight win. Artest, returning from a three-game suspension for destroying a television camera following a loss at New York on Jan. 3, had 18 points, nine rebounds and four steals. Al Harrington added 16 points and eight rebounds off the bench.
Nets 94, Raptors 79
Toronto -- Jason Kidd had 25 points, eight assists and seven rebounds as New Jersey rebounded from its worst loss of the season to hand Toronto its 12th straight defeat. Kidd managed just 10 points on 5-for-17 shooting in Thursday's 36-point loss to Sacramento. He went 9-for-19 from the field against Toronto. Toronto's Vince Carter missed his 16th straight game with a strained right knee.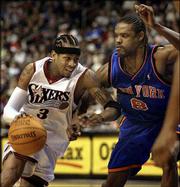 Warriors 104, Wizards 99
Washington -- Earl Boykins scored 16 points, many of them from difficult angles by contorting his 5-foot-5 body through the paint, as Golden State beat Washington to snap the Wizards' five-game winning streak. Gilbert Arenas led the Warriors with 22 points, and Troy Murphy had 15 points and a career-high 17 rebounds.
T'wolves 115, Kings 109, OT
Minneapolis -- Joe Smith had a season-high 25 points and 10 rebounds, and Kevin Garnett added 24 points and 15 boards as Minnesota held off Sacramento in overtime.
Hawks 84, Rockets 75
Atlanta -- Jason Terry scored a season-high 33 points as Atlanta snapped a six-game losing streak. The Hawks improved to 2-6 since coach Terry Stotts replaced Lon Kruger. Shareef Abdur-Rahim added 21 points, and Theo Ratliff had 16 rebounds and four blocks. Glenn Robinson sat out with a sore right elbow.
Mavericks 103, Celtics 78
Dallas -- Michael Finley and Dirk Nowitzki combined for 37 first-half points, then hooked up on an electrifying alley-oop in the third quarter, carrying Dallas past Boston. Showing great hustle on both ends, especially in fighting for loose balls defensively, the Mavericks broke a second-quarter tie at 27 with a 21-3 run.
Nuggets 82, Trail Blazers 81
Denver -- Nene Hilario had 20 points and 11 rebounds and Juwan Howard added 19 points as Denver held on to beat Portland for its second two-game winning streak of the season.
Bucks 93, Bulls 85, OT
Milwaukee -- Anthony Mason scored a season-high 21 points and Toni Kukoc had 17 of his 19 points in the fourth quarter and overtime as Milwaukee beat Chicago, handing the Bulls their 16th straight road loss. The Bulls missed their first nine free-throw attempts and finished 6-for-21. The Bucks scored the first four points of overtime and the Bulls never caught up. It was 87-85 when Kukoc passed to Michael Redd for the clinching layup with 14 seconds left.
Jazz 92, Heat 76
Salt Lake City -- Matt Harpring scored 31 points as Utah shot 51.5 percent and handed Miami its fifth straight defeat. Karl Malone added 19 points and six rebounds for the Jazz, who never trailed and climbed seven games above .500 for the first time this season while winning for the ninth time in 11 games. Utah let a 21-point lead slip to three in the second half, but held on to beat the Heat for the fourth straight time.
Pistons 101, Hornets 99, OT
New Orleans -- Chauncey Billups capped a 32-point performance with two three-pointers in the last 2 minutes of overtime and a pair of go-ahead free throws with 1.6 seconds left to lead Detroit past New Orleans. Richard Hamilton, who had only three points at halftime, finished with 22.
Suns 96, Grizzlies 90
Phoenix -- Amare Stoudemire had 16 points and a career-best 21 rebounds as Phoenix won its ninth consecutive home game. Stephon Marbury, who had 25 points and 11 assists, scored 11 in the final 4:11, going 7-of-7 on free throws. He was 11-for-11 at the line overall.
Stoudemire had the worst game of his often-spectacular rookie season in a loss at Memphis on Dec. 8 -- two points, two rebounds, four fouls and a technical.
Lakers 115, Cavaliers 99
Los Angeles -- Kobe Bryant scored 21 points and had a triple-double despite missing his only two three-pointers, and Shaquille O'Neal added 26 points as Los Angeles beat Cleveland to win three in a row for the first time this season. Bryant had 11 assists and 10 rebounds for his fifth triple-double of the season and eighth of his career.
Clippers 90, SuperSonics 88
Seattle -- Lamar Odom scored 21 points and Andre Miller had his second career triple-double with 16 points, 10 rebounds and 10 assists as Los Angeles handed Seattle its fourth consecutive loss. The Clippers ended a four-game losing streak in Seattle. They had lost eight of their last nine against the Sonics.
Copyright 2018 The Associated Press. All rights reserved. This material may not be published, broadcast, rewritten or redistributed. We strive to uphold our values for every story published.