Hy-Vee Food and Drug Store is seeking to become the second Lawrence grocery store to expand into the gasoline sales business.
Officials with the store have filed development plans with the Lawrence-Douglas County Planning Department to add 10 gasoline pumps and a 1,350-square-foot convenience store in the southwest corner of the grocery store's parking lot at 4000 W. Sixth St.
Dillons, 3000 W. Sixth St., in August opened a 10-pump gasoline sales business in its parking lot, making it the first Lawrence grocery store to follow the national trend of combining food and fuel sales.
Shawn Brown, store manager for Hy-Vee, said his company decided to get into the gasoline business because of customer demand for the service.
"It is really becoming a trend in the industry," Brown said. "We continue to find that convenience is the selling point. If they pull in and get groceries, they would just as soon buy gas, too.
"It basically is an opportunity for us to sell another item. You just have to look at the results to see that the consumer is obviously in favor of it. I don't know of any grocery company who isn't doing well with it. You can tell that by just looking at how fast these type of operations are going up."
Hy-Vee has 20 supermarket locations that sell gasoline. The company hopes to add another 10 to 20 locations in 2003, said Ruth Mitchell, a Hy-Vee corporate spokeswoman. The company opened its first Kansas gasoline station last week at its store in Mission.
"We find that is a good way to draw new customers," Mitchell said. "Not so much new gas customers, but new customers for the entire supermarket."
Mitchell said the company would treat the convenience store like another department of the grocery store. She said the company frequently would offer per-gallon discounts to people with Hy-Vee grocery receipts. Dillons also offers a similar program, providing per-gallon discounts to customers who use their Dillons Plus Shopper Card.
Tom Palace, executive director of the Petroleum Marketers and Convenience Store Association of Kansas, said traditional convenience store owners were keeping a close eye on the trend. He said there was concern that larger retailers, like grocery stores and Wal-Mart, would sell gasoline at prices below their actual cost to attract customers to other parts of their business.
"We don't have a problem if they are selling it at a competitive price, but if they are selling it below cost then we have a problem," Palace said. "If they start treating gasoline like a corn dog that you give away on customer appreciation day, then it is a problem."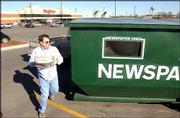 Palace said he didn't have any evidence of Hy-Vee or Dillons selling their gasoline below cost. But he said members of his organization had reported other larger retailers selling gasoline at prices 10 cents to 15 cents below market rates.
Mitchell said Hy-Vee didn't have a policy to sell its gasoline at prices that are below costs, but the company responds to events in each market it serves.
"We don't want to be the first one to go down on prices or do any deep discounting, but if that's the way the local market goes, then we're able to respond to that," Mitchell said.
Dillons, which has fuel sites at 20 of its Kansas stores, doesn't comment on how it sets its fuel prices, spokesman Dennis Geschler said.
Palace said his association would like to see state legislators pass a law restricting the sale of gasoline at prices below cost, but the organization has yet to find a legislator to champion the cause.
Hy-Vee's plans for the convenience store still must win approval from the planning commission and Lawrence City Commission. The issue is scheduled to be heard at the planning commission's meeting at 6:30 p.m. Jan. 22 at City Hall.
Brown said no opening date had been set for the Hy-Vee convenience store, but he hopes construction will begin in April.
Copyright 2018 The Lawrence Journal-World. All rights reserved. This material may not be published, broadcast, rewritten or redistributed. We strive to uphold our values for every story published.