Chicago — With just three days left in office, Gov. George Ryan on Friday pardoned four death-row inmates he said were tortured by Chicago police into falsely confessing in the 1980s, declaring their cases "perfect examples of what is so terribly broken about our system."
Ryan announced the pardons at the end of his three-year campaign to reform Illinois' capital punishment system, which began when he declared a moratorium on executions in January 2000. He didn't seek a second term and leaves office Monday.
Although aides said Ryan continued to struggle late Friday with whether to commute the sentences of all remaining 156 death-row inmates, sources said he ordered that letters be delivered overnight notifying victims' families that Ryan would in fact grant a blanket commutation.
In the two-page letter, Ryan told family members how difficult it had been to reach the decision to grant blanket commutations, but he said it was the only way to prevent an innocent person from being executed -- his greatest concern. Ryan closed the letter with the words, "May God bless you."
Ryan pardoned Madison Hobley, Stanley Howard, Aaron Patterson and Leroy Orange, saying police tortured them into confessing to murders they had not committed. Each was on death row for at least 12 years; Orange was on death row the longest, more than 17 years.
"We have evidence from four men, who did not know each other, all getting beaten and tortured and convicted on the basis of the confessions they allegedly provide," Ryan said. "I believe a manifest injustice has occurred."
All the men but Howard, who was convicted of a separate crime, were released immediately.
As he left the Pontiac Correctional Center, Hobley said he hoped the officers who tortured him would be charged. "It's a dream come true, finally," he said. "Thank God that this day has finally come."
The 52-year-old Orange talked about missing the birth of grandchildren, deaths in the family and graduations while he was behind bars.
"You name it, I missed it," Orange said after walking out of the Cook County Jail. He offered a message to the governor: "Thank you with all my heart and please do something for the remaining group on death row."
Reaction from death-penalty supporters was swift. Dick Devine, prosecutor in Chicago's Cook County, called the pardons "outrageous and unconscionable."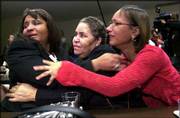 "By his actions today, the governor has breached faith with the memory of the dead victims, their families and the people he was elected to serve," Devine said.
Devine said his office was trying to determine if the pardons could be challenged.
Ollie Dodds, whose 34-year-old daughter, Johnnie Dodds, died in an apartment fire Hobley was convicted of setting, said she was saddened by the governor's decision.
"I don't know how he could do it," said Dodds, who still believes Hobley is responsible for the crime. "He doesn't deserve to be out there."
Ryan spread the blame during an hourlong speech, calling Illinois' criminal justice system "inaccurate, unjust and unable to separate the innocent from the guilty, and at times very racist."
He blamed "rogue cops," zealous prosecutors, incompetent defense lawyers and judges who rule on technicalities rather than on what is right.
The governor also said he felt he had little choice when he declared the moratorium on executions, since 13 men had just been freed from death row after new evidence or flaws in their cases turned up. Since the death penalty was reinstated in Illinois in 1977, 12 men have been executed -- the last of which occurred in 1999.
Hobley, 42, contended he made a false confession in 1987 after he was beaten and nearly suffocated. He was convicted of murder and arson in the deaths of seven people, including his wife and infant son.
Patterson, 38, said police coerced his 1986 confession by threatening him with a gun, beating him and trying to suffocate him. He was convicted of murdering a couple who were allegedly selling illegal weapons.
Howard, 40, was found guilty of murder, armed robbery and rape, among other crimes. He said he was forced to confess after he was handcuffed to a wall ring, beaten and choked by police in 1984.
Orange was sentenced to die for the stabbing of his former girlfriend, her 10-year-old son and two others. He claimed that police tortured him by applying electric shocks to his testicles and rear end and putting a plastic bag over his head. His half-brother is also on death row for the slayings and has said he, too, was coerced into confessing.
Copyright 2018 The Associated Press. All rights reserved. This material may not be published, broadcast, rewritten or redistributed. We strive to uphold our values for every story published.