Newark, N.J. — A go-go dancer who was supposed to be caring for three young brothers found dead or starving in a locked basement was captured after a four-day search Thursday when a stranger turned her in.
Authorities had been looking for Sherry Murphy since Saturday, when two of the brothers were found emaciated and starving in her home. The next day, authorities discovered the body of the third brother stuffed into a purple plastic storage bin.
The case has touched off debate about New Jersey's child welfare system, which had investigated complaints about the family but closed the case last year.
Murphy, 41, was arrested on child endangerment charges.
The man who turned her in had seen her crying at a phone booth near a go-go bar and offered her a place to stay after she told him she had just arrived from the South with nowhere to go, Mayor Sharpe James said. Jean Claude Dessources later recognized Murphy from news reports. On Wednesday, he sent her to his cousin's apartment next door and called police, James said.
Officials had offered a $5,000 reward for information leading to her arrest but had not decided Thursday whether Dessources would get the money.
Murphy was supposed to be arraigned Thursday, but she was taken to the hospital after complaining of lightheadedness during police questioning, James said.
The two surviving boys, Raheem Williams, 7, and Tyrone Hill, 4, remained hospitalized Thursday in fair condition. An autopsy determined that Raheem's twin brother, Faheem, died more than a month ago of starvation and blunt force to the stomach.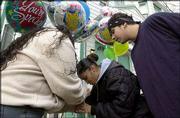 No one has been charged in the boy's death, but police said more charges are being drawn up against Murphy.
Murphy had been caring for the boys since their mother, Melinda Williams, Murphy's cousin, was jailed in March on assault charges.
Williams, 31, told authorities she could not find Murphy or the children last year after she got out of jail. She was hit by a car Saturday while rushing to see the children and was hospitalized in critical condition.
Investigators said the two surviving boys had been beaten, burned with cigarettes and subjected to other abuse.
Gov. James McGreevey ordered an investigation of the child-welfare agency, and the supervisor in charge of the Williams case was suspended Wednesday.
Copyright 2018 The Associated Press. All rights reserved. This material may not be published, broadcast, rewritten or redistributed. We strive to uphold our values for every story published.