The president of the Lawrence school board filed for a second term Monday, declaring his candidacy a referendum on a proposed $59 million bond issue for school construction and renovation.
"The bond has become inseparable from my approach to what our schools need," said Scott Morgan, an attorney and publisher. "If people are opposed to the bond, then they are opposed to me."
The proposition includes money for improvements at a majority of district schools. It's also tied to a plan to close Riverside, East Heights and Centennial schools.
Morgan, 45, is the first of four board members facing re-election to announce his political intentions. Only one other person, banker Cindy Yulich, has officially entered the race.
The filing deadline is Jan. 21, with the election on the bond and school board April 1.
Morgan, something of a lightning rod for controversy on the board, said nearly four years on the board put a strain on his family and his business. Support for issues at the forefront of the board's agenda -- the bond, budget cuts, consolidation -- opened him to attack, he said.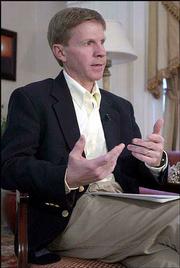 "On the board, you deal with people's children and their money," he said. "Both are matters that can bring passion to an issue with remarkable speed."
However, Morgan said, the opportunity to tackle overdue construction and renovation projects in the schools and to improve the quality of education for the district's 10,000 students led him to the decision.
"It is hard to imagine a more pivotal point for our children and our schools," he said. "I can't find a way to urge this community to approve the change put forth in our bond proposal but then say that I am going to sit back and just watch."
He said satisfaction derived from public service also was an important factor.
"It isn't easy, but it is worth it," he said. "Looking at my own three children as they go off to school reminds me why it is necessary for each of us to stand up and do what we can to ensure that all of our children are prepared for an unsettled future.
"I cannot tell my children that this is what public service means and then quit trying because my particular role has become unpleasant or difficult."
Copyright 2018 The Lawrence Journal-World. All rights reserved. This material may not be published, broadcast, rewritten or redistributed. We strive to uphold our values for every story published.