Boston — Jerry Stackhouse thinks the Washington Wizards' success might have as much to do with what they're doing off the court as what they do on it.
Stackhouse had 37 points on Monday night in a 100-95 victory over the Boston Celtics as the Wizards won their fourth straight game -- their longest winning streak of the season. They haven't lost since New Year's Eve, when Stackhouse made a resolution to spend more time bonding with his new teammates.
"To spend some time away from basketball has definitely been good for us," said Stackhouse, who was traded to Washington in September after 41¼2 years with the Detroit Pistons. "These things go a long way to build a team."
Michael Jordan converted a three-point play with 32.8 seconds left for his only points of the fourth quarter, and the Pistons improved to .500 (17-17) for the first time since Nov. 22.
"The team is starting to look like a team," said Jordan, who also had 11 rebounds and seven assists. "There's so many ways I can help the team. It's not just scoring."
Stackhouse thinks part of the secret is team bonding. Ever since the team's Christmas party, he said, players have spent more time together away from basketball, getting together after practice or going to dinner in groups of three or four.
Boston took its final lead, 95-93, on two free throws by Tony Battie with 1:02 left. But Jordan got Eric Williams turned around to the right of the basket before putting up a soft jumper and drawing the foul.
"It was a heartbreaking loss," said Paul Pierce, who led Boston with 30 points. "It hurts because it's a game we felt like we should have won."
Nets 101, Hawks 94
Atlanta -- New Jersey took control with an early 12-0 run and won, extending the Nets' winning streak to 10 in a row. Jason Kidd and Lucious Harris each scored 21 points to lead the Nets, who got 17 points apiece from Richard Jefferson and Kenyon Martin.
Jason Terry scored 27 points for the Hawks, who lost their fifth in a row.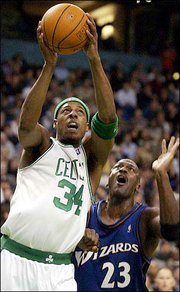 Pistons 82, Raptors 74
Auburn Hills, Mich. -- Cliff Robinson had season-highs with 25 points and 11 rebounds as Detroit handed Toronto its 11th straight loss.
Detroit has won 10 of 13.
The Raptors have lost 17 of 19 and seven straight on the road with an injury-plagued lineup.
Pacers, 105, 76ers 104, OT
Philadelphia -- Jermaine O'Neal's one-handed turnaround jumper with 1.6 seconds left in overtime lifted Indiana.
Al Harrington had 28 points and Reggie Miller added 19 for the Central Division-leading Pacers.
Allen Iverson scored 32 points and Derrick Coleman, starting his first game this season, had 18 points and 14 rebounds.
Bucks 106, Cavaliers 94
Cleveland -- Ray Allen scored 13 of his 27 points during a decisive third-quarter run to lead Milwaukee.
Allen hit three 3-pointers and scored 16 points in the third quarter, including 13 in a 3:50 span when the Bucks built a 65-62 lead into an 81-71 advantage.
Ricky Davis scored 22 points to lead Cleveland.
Magic 103, Knicks 100
Orlando, Fla. -- Tracy McGrady had 14 of his 28 points in the fourth quarter and Orlando stopped a two-game skid.
The Magic had the ball and a 102-100 lead but were called for a shot-clock violation with 14.5 seconds left. However, Latrell Sprewell missed from 20 feet and Orlando's Mike Miller was fouled, hitting 1-of-2 free throws with 2.2 seconds left.
Grizzlies 106, Hornets 102
Memphis, Tenn. -- Jason Williams scored 28 points and handed out 14 assists to save Memphis, which nearly blew a 31-point third-quarter lead.
The Hornets got within one, 97-96, when Courtney Alexander hit a 12-foot turnaround with 2:51 to play. But they could not overtake the Grizzlies as Williams hit two shots and then sealed the win with two free throws with just under 24 seconds to play.
Bulls 113, Jazz 98
Chicago -- Jalen Rose scored 31 points and Marcus Fizer had a season-high 28 off the bench, helping Chicago snap a 10-game losing streak to Utah.
Jamal Crawford filled in nicely for Jay Williams, who missed his first game because of a sprained ankle. Crawford finished with 12 points, five assists, two steals and just two turnovers.
It was Chicago's first victory over the Jazz in the regular season since Jan. 6, 1997. Matt Harpring led the Jazz with 18 points, while Karl Malone and John Stockton each had 16.
Mavs 86, Nuggets 71
Dallas -- Michael Finley had 19 points and Dirk Nowitzki recovered from a two-point first half to finish with 18 as Dallas overcame a sluggish start.
Kansas University product Raef LaFrentz had 16 points and 11 rebounds, both season-highs, to help Dallas improve to 17-2 at home and a league-best 28-5 overall.
Ex-Maverick Juwan Howard's 22 points and 14 rebounds paced the Nuggets, who've lost 12 of 13 overall and seven in a row to Dallas.
Warriors 99, Heat 85
Oakland, Calif. -- Antawn Jamison scored 22 points and grabbed 12 rebounds, helping Golden State win for the fifth time in six games. Gilbert Arenas also scored 22 as the Warriors snapped a six-game losing streak against the Heat.
Erick Dampier's three-point with 3:14 remaining to play gave the Warriors an 88-79 lead and they never let the Heat get within striking distance after that.
Copyright 2018 The Associated Press. All rights reserved. This material may not be published, broadcast, rewritten or redistributed. We strive to uphold our values for every story published.