Ames, Iowa — Nick Collison couldn't have picked a better time, day, or place to play the best game of his college basketball career.
"It's great for me. I don't think it could be any better, to walk off the court with a smile on my face in my last game here," Collison, Kansas University's senior All-America candidate from Iowa Falls, Iowa, said after scoring a career-high 31 points in the Jayhawks' 83-54 rout of Iowa State on Monday night at Hilton Coliseum.
Not only did the 6-foot-9, 255-pounder hit 11 of 15 shots and eight of nine free throws for the first 30-plus-point game of his career, but did so in KU's first game without injured power forward Wayne Simien.
His performance just down the road from his childhood home made Simien's absence seem like no big deal as KU handed Iowa State its worst loss in Hilton Coliseum history.
The Cyclones had never lost by more than 25 points in their 31-year-old building ... until Monday night.
"It feels great to play well here. If there's one place I could pick it to be, it'd be here probably," Collison said, referring to his high-water mark in points.
Senior Kirk Hinrich -- who, like Collison, finished his career with a 2-2 record at Hilton -- had an off night offensively with five points off 2-of-11 shooting.
But the Sioux City, Iowa, native brought his defensive A-game.
He shut down Iowa State shooting guard Jake Sullivan as KU raced to a 22-2 lead eight minutes into the game. Sullivan missed eight of nine first-half shots as the Jayhawks took an insurmountable 39-21 lead into halftime.
"We just wanted to come out and have a great game," Hinrich said. "We knew it would be a challenge playing without Wayne tonight. Everybody was talking about stepping up and meeting the challenge."
The Jayhawks (10-3 overall, 1-0 Big 12 Conference) used a stifling pressure defense to confound the Cyclones (10-2, 0-1) and win their 21st straight league game.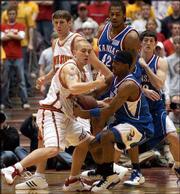 "When you are guarding Jake Sullivan," KU coach Roy Williams said of Sullivan, who finished with 13 points off 6-of-17 shooting, "you've got to really be into it on the defensive end of the floor. Defensively it was a great night for us, and let's be honest, we caught Iowa State on a night the shots weren't going down."
The Jayhawks, who held ISU to 36.7-percent shooting, including 1-of-12 three-point marksmanship, did not leave it all on the court, saving some energy for a wild victory celebration in the locker room.
KU's players probably made more noise than a stunned crowd of 12,084 fans who were silenced most of the evening.
"I worked up a sweat in there jumping around," Williams said.
It's easy to see why.
"It was just a sensational beginning for us," Williams said. "If you told me we'd not have Moulaye (Niang, who is in Senegal for father's funeral) and Wayne, and Kirk would go 2-of-11, I'd say we'd have no chance of winning."
But win the Jayhawks did thanks in large part to Aaron Miles (13 points, five assists) and Collison, who combined for 15 of KU's first 22 points.
Also, Jeff Graves had 10 boards and seven points in making his first start in place of Simien. Keith Langford chipped in 15 points while shutting down highly touted freshman Adam Haluska, who missed five of six shots and scored two points.
"I talked about it since last Saturday ... everybody has to elevate their play and we have to do it as a team," Williams said. "Not shoot more, but elevate their play."
Collison was up to the task, at one point in the second half scoring nine straight points for KU, including a bucket where he drove past the hoop, flipping the ball up and in with his left hand.
"He has a lot of mobility inside," Williams said. "He has a million moves. The one where he goes to the other side and flips it up left handed, I'd not seen that yet. He is Kevin McHale two or three inches shorter," the coach gushed.
Collison -- he played a foul-free 36 minutes -- buried the Cyclones quietly, barely uttering a peep after his buckets, which included one second-half three.
"Nick and Kirk don't talk too much so I did the jaw jacking for 'em," joked Langford. "Nick had a career game. I'd run down and tell Nick, 'You are an All-American,' to get it in the head of whoever was guarding him. He was unstoppable."
The Jayhawks won all the statistical battles, hitting 50 percent of their shots to the Cyclones' 36.7 percent. KU hit four of 10 threes to ISU's one of 12. Led by Graves, KU outboarded ISU, 35-33.
All without Simien, who wore a nifty sports coat with his arm in a sling during the game.
"It feels great to come in and play well in a big game like this," Hinrich said. "We've had such a hard time coming in here and winning in the past. To have a big win like this ... you have such a sense of accomplishment. We just feel really good right now."
The Jayhawks will be idle until Saturday when Nebraska visits for a 12:45 p.m. tip.
Copyright 2018 The Lawrence Journal-World. All rights reserved. This material may not be published, broadcast, rewritten or redistributed. We strive to uphold our values for every story published.