Topeka — Bill Linde was so frustrated last month that he e-mailed President Bush and the state's two U.S. senators suggesting Kansas be declared a disaster area -- because of its budget problems.
Linde is a commissioner of Woodson County, which is struggling with the potential loss of $200,000 in state aid and the planned closing of a state social services office. The future of the state prison camp in Toronto also is uncertain.
Woodson County's problems stem from Gov. Bill Graves' decisions to cut state spending in August and November and to withhold $48 million in aid to cities and counties to prevent a budget deficit.
But the budget trouble that some officials call the worst since the Great Depression will remain after Gov.-elect Kathleen Sebelius succeeds Graves and legislators begin the new session Jan. 13.
"It's just got us to the place where we're hollering," Linde said. "Out here in the country, it's just rough sledding."
In Kansas, as in most of the nation, state tax collections have fallen short of expectations for months. Without Graves' actions, the budget for the fiscal year that ends June 30 was expected to be about $312 million out of balance -- a gap that could grow to exceed $1 billion during the next 18 months.
For the Kansas House and Senate, the big issue in 2003 will be the same as in 2002 -- whether to raise taxes. Last year, lawmakers approved a package of $252 million in higher taxes.
Bill Ireland, another Woodson County commissioner, said legislators should look at closing tax exemptions to help raise money.
Graves, who, like Ireland, is a Republican, pushed for a tax increase, but Sebelius, a Democrat like Linde, does not plan to do the same, at least not initially. Republican legislative leaders see little enthusiasm for raising taxes.
"There is no consensus for a tax increase," said incoming House Speaker Doug Mays, R-Topeka. "I think there's a realization that this recession is deeper than anyone had realized, at least in Kansas, and that a tax increase could have just the opposite effect that we want."
But many legislators also dislike the cuts made by Graves, particularly in social services.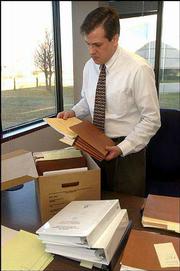 The Department of Social and Rehabilitation Services had to trim $32.6 million, or 4.8 percent, from its general fund appropriation. Its total budget, including federal funds, is $2.1 billion.
Advocates for people with developmental disabilities already are promising to sue over some of the cuts.
"When you look at the reductions that have been made by the governor, there's some very scary and hurtful cuts," said Rep. Rocky Nichols, of Topeka, the ranking Democrat on the House Appropriations Committee.
Some Kansans who rely on state and federal assistance are worried not only about the state budget but about federal aid.
Topeka resident Hans Heinemann, whose ability to work has been limited since he injured a knee in 2000, recently was informed that his $47 monthly food stamp benefit was being cut to $20. Food stamps are federally financed.
"I will have to cut back on some of my bills," Heinemann said. "I could end up losing my electricity or gas or losing my phone, realistically."
SRS plans to close offices in 23 counties, including Woodson County -- even though the U.S. Census Bureau reported last year that Woodson County had the lowest median per-household income in Kansas at $25,335.
"It's going to inconvenience a lot of people here who don't have transportation," Ireland said.
SRS Secretary Janet Schalansky questioned such an assertion, saying the targeted offices served relatively few people. She also said the department is studying how to deliver its services more efficiently.
"Our purpose is to have access to services equal or better to the access to services they have today," she said. "One single place in a county isn't great access anyway."
But Linde and Ireland see their county -- and its citizens -- taking budget hits from several directions. With 47 employees, a general fund of about $873,000 and a total budget of about $3 million, the county will have to reduce or eliminate services if any layoffs are needed, Linde said.
"All of us here are just pulling together to keep our heads above water," he said.
Copyright 2018 The Associated Press. All rights reserved. This material may not be published, broadcast, rewritten or redistributed. We strive to uphold our values for every story published.