Toronto — A balanced offensive performance by New Orleans meant another loss for the hapless Toronto Raptors.
Mashburn scored 22 points, helping the Hornets beat the Raptors, 99-84, on Sunday and handed Toronto its 10th straight loss.
David Wesley added 20 points, P.J. Brown 16, Stacey Augmon and Jamaal Magloire each had 11 and Courtney Alexander 10 for New Orleans, which has won two straight after losing its previous five.
"We got a lot of contributions from a lot of people," Wesley said. "We moved the ball really well."
Wesley had seven points during an 11-1 run as the Hornets took a 10-point lead early in the fourth quarter.
Peterson followed with eight straight points, including two three-pointers to cut the lead to three with 8:35 left.
But the Hornets put Augmon on Peterson and they followed with a decisive 16-3 run, including seven points from Mashburn.
Mashburn made a three-pointer and a jumper to give New Orleans a 15-point lead -- their biggest of the game -- with 1:34 left.
"With everybody scoring it makes it easier for me," Mashburn said. "As the game wore on they left me and I got some open shots."
Morris Peterson had 17 points for the 8-26 Raptors, who have lost 14 of 15. Only Denver and Cleveland have worse records.
"You have to be worried about that," said Antonio Davis, acting as master of the obvious.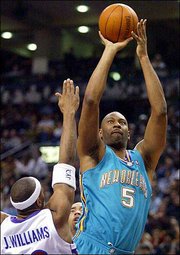 All-Star Vince Carter missed his 14th straight game because of a strained right knee. The Raptors were also without Lamond Murray, Voshon Lenard, Eric Montross and Michael Bradley because of injuries.
"We're starting to feel the pressure of having to come down and score a basket instead of relaxing and executing," said Davis, who went 5-for-15 from the field for 15 points.
Spurs 94, Clippers 86
Los Angeles -- Tim Duncan had 24 points and 14 rebounds for his 25th double-double of the season, helping San Antonio send Los Angeles to its sixth straight loss.
Tony Parker added 26 points, making 11 of 13 free throws, and Bruce Bowen scored all of his 13 in the second half for the Spurs, who committed 16 turnovers.
Lamar Odom had 22 points and 11 rebounds and Corey Maggette had 19 points, including all eight of his free throws, for the Clippers, who've lost eight of their last nine and remain at the bottom of the Pacific Division.
Blazers 92, Knicks 89
New York -- Portland won for the 10th time in its last 11 games and finished 4-1 on their latest five-game road trip.
Bonzi Wells had 22 points and six rebounds, Rasheed Wallace added 18 points and 12 rebounds and Antonio Daniels added 15 points.
The Blazers were aided by a mental mistake on the part of Allan Houston, who attempted a 2-point shot with 3 seconds left with the Knicks needing a three-pointer to tie it.
Houston scored 29 and Latrell Sprewell had 16 for the Knicks, who had their three-game winning streak snapped.
Kings 96, Heat 70
Sacramento, Calif. -- Mike Bibby scored 22 points and Sacramento never trailed.
Bibby shot poorly in the first half but made all five shots and scored 12 points in the third quarter when Sacramento outscored Miami, 30-22.
Both teams played without their leading scorers. Chris Webber missed his second straight game because of a bruised left knee, while an ankle injury kept the Heat's Eddie Jones sidelined.
Caron Butler scored 16 points for Miami, which shot just 29.8 percent. Eddie House added 13 points.
Lakers 109, Suns 97
Los Angeles -- Shaquille O'Neal had 36 points, 16 rebounds and four blocked shots, leading the Los Angeles Lakers past Phoenix
Kobe Bryant had 31 points, 12 rebounds and seven assists and Rick Fox added 11 points and eight assists for Lakers (14-20).
Bryant scored the Lakers' first nine points of the fourth quarter before O'Neal's basket put Los Angeles ahead 88-77 with 8:18 remaining. The Suns weren't closer than seven points after that.
Stephon Marbury led Phoenix (21-13) with 32 points and six assists.
Copyright 2018 The Associated Press. All rights reserved. This material may not be published, broadcast, rewritten or redistributed. We strive to uphold our values for every story published.