Camden, N.J. — When Campbell Soup Co. began selling its condensed soups in their red and white cans, it couldn't have been easier -- just add water and heat.
But this convenience food has been surpassed by even more convenient foods, and now the company is trying to convince the public that its products, including stalwarts like alphabet soup, are really M'm! M'm! Better!
Campbell isn't relying on advertising alone. It's making changes to the soups themselves in an effort to stop consumers from defecting to other foods.
The alphabet soup, for example, now has 40 percent more letters and the vegetable chunks are crispier.
Doug Conant, who became Campbell's CEO nearly two years ago, said the company did not expect to revolutionize dinner tables.
"Our goal is to stabilize our condensed soup business," he said.
Sales of Campbell's condensed soups have been falling between 1 percent and 2 percent a year, canceling out some of the growth in other businesses for Campbell, which also sells Pepperidge Farm cookies and crackers, Pace picante sauce and Godiva chocolates, among other brands.
Whether the changes are enough to stabilize sales could determine the fate of the condensed soup market, some analysts say.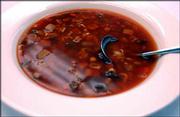 Andrew Lazar, an analyst for Lehman Brothers, said if the soup upgrades flopped, the company would have even more soul-searching to do.
"Does this management team throw in the towel on condensed?" Lazar asked.
Campbell officials say condensed soup, with sales of about 1 billion cans a year in the United States, is here to stay no matter what. Three soups -- tomato, chicken noodle and cream of mushroom -- are among the 15 best-selling products in U.S. supermarkets, company officials said.
Campbell has tinkered with its soups before -- adding more chicken to the chicken noodle, for example -- but the company has never had an overhaul like this. The firm is about midway through its three-year plan to improve the soups.
So far, 10 vegetable soups including its minestrone, vegetable soup with alphabet-shaped noodles and Southwest-style chicken vegetable, have been revamped. Next year at this time, the company plans to have another batch of 13 soups, including chicken noodle, reconstituted using the same process.
In the past, Campbell's soups have been produced in plants roughly the way people at home would make soup from scratch: in one big pot.
The company now is using a new cooking technique called "cold-blending" that allows different ingredients to be added at different points in the process and some ingredients to be cooked less. The result is a soup with a clearer broth and crisper ingredients.
The changes are expensive. The company won't say exactly how much the new equipment that makes them possible is costing, but it spent $300 million to upgrade the technology in all its plants during the fiscal year that ended July 31.
Analysts say store brands have improved their quality over the years and cut into Campbell's business, particularly in the condensed market. But the company thinks the changes will put Campbell in a better position.
"It's going to be very much harder for our competitors to follow," said R. David C. MacNair, Campbell's chief research officer.
Analyst Mitch Pinhero, who follows Campbell for Janney Montgomery Scott, said that beyond changing the soups, "there's not a whole lot more they can do unless they cut prices."
Copyright 2018 The Associated Press. All rights reserved. This material may not be published, broadcast, rewritten or redistributed. We strive to uphold our values for every story published.