Brasilia, Brazil — Breakfast with Hugo Chavez, dinner with Fidel Castro.
The first day in office for Brazil's new president, Luiz Inacio Lula da Silva, projects the image of a leftist alliance in Latin America -- one that Chavez, Venezuela's president, has already nicknamed the "Axis of Good."
Such an alliance could hinder U.S. efforts to create a Free Trade Area of the Americas stretching from Alaska to the tip of Argentina by 2005.
Despite the perception of a new Latin American troika, doubts abound that Silva really wants to form a bloc with such close ties to Chavez and Castro, Cuba's leader.
But by giving Latin America's other two leftist leaders such a warm welcome Thursday -- a day after his inauguration -- Silva gets huge political mileage in Brazil, where Castro and Chavez are revered by the far left of his party.
The United States sent trade representative Robert Zoellick to the inauguration, seen by the Brazilians as something of a snub because Silva had called him "the subsecretary of a subsecretary of a subsecretary."
At the breakfast meeting, Chavez asked Silva to send technical experts from Brazil's state-owned oil company to replace some of the 30,000 Venezuelan state oil workers who have joined a crippling nationwide strike. Silva said he would consider the request.
And before dining Thursday night with Silva, Castro told Associated Press Television News that Brazilian-Cuban relations would grow stronger now that Brazil had its first elected leftist president.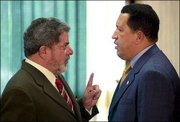 Castro and Chavez had front-row seats Wednesday in Congress at Silva's inauguration.
But experts said Silva's efforts to accommodate Castro and Chavez in Brasilia could be carefully calculated political window dressing.
Silva angered his party's left wing by appointing fiscal moderates to key cabinet posts, but he needs its help to push programs through Congress, where he lacks a majority.
"Embracing Castro and Chavez, the symbols of anti-U.S. influence in Latin America, gets Silva political capital in Brazil," said Stephen Haber, a Latin American expert at the Hoover Institution at Stanford University.
"But this is a dangerous game; you go too far one way or the other and this will blow up in your face."
Copyright 2018 The Associated Press. All rights reserved. This material may not be published, broadcast, rewritten or redistributed. We strive to uphold our values for every story published.