LEXINGTON, KY. — Tennessee's Ron Slay glanced at the nearly expired shot clock, then sank a three-pointer over Kentucky's Chuck Hayes.
"Jawbreaker," Hayes remembered Slay saying as the two trotted to the other end of the court in the second half.
Not so fast.
Keith Bogans scored 15 points, and the second-ranked Wildcats used balanced scoring to extend the nation's longest winning streak to 17 games with an 80-68 victory Wednesday night.
Slay, the Southeastern Conference's leading scorer, dominated the individual matchup with Hayes, outscoring him 22-12 and outrebounding him 14-1.
But Hayes' team had more than enough offense to cancel out Slay's efforts.
Jules Camara added 12 points, Cliff Hawkins 11, and Marquis Estill had 10 points and nine rebounds for Kentucky (23-3, 13-0), which tied its longest winning streak under coach Tubby Smith.
"We don't have just one guy. We all want to go out and play," Bogans said.
Slay, a notorious trash-talker, humbly gave Kentucky its due after the game.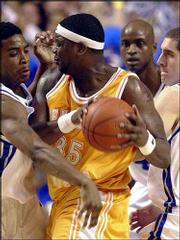 "Even when they don't do something right, they look like they're doing something right," Slay said. "Even when they make an offensive mistake, they usually make up for it on the defensive end."
Tennessee (15-9, 7-6) went 27-of-46 from the field (59 percent), the best shooting performance by a Wildcats opponent this season. But the Volunteers made only 12 baskets and committed 11 turnovers after halftime to lose for the 25th time in 28 meetings at Rupp Arena.
Hawkins said the Wildcats got a tongue-lashing from Smith at halftime, not unlike the one they got Jan. 14 at Vanderbilt. Kentucky trailed 36-28 at halftime that night, then won 74-52.
"The second half, we know what we've got to do," Hawkins said. "It was a whole lot of coach Smith. He told us we weren't challenging shots. We just kind of settled in and started doing what we do best."
The Volunteers outrebounded the Wildcats 29-21. It was just the sixth time Kentucky was outrebounded in a game this season.
No. 6 Duke 77, Georgia Tech 58
Atlanta -- J.J. Redick scored 19 points, and Duke secured its seventh straight season with at least 20 victories.
Redick did most of his damage from beyond the three-point line, shooting 6-of-7. Dahntay Jones added 17 points for the Blue Devils (20-4 overall, 10-4 Atlantic Coast Conference), who have won four in a row.
Ed Nelson had a career-high 22 points for Georgia Tech (12-12, 5-8), which has lost a season-high four in a row.
No. 8 Pittsburgh 75, Virginia Tech 62
Blacksburg, Va. -- Brandin Knight scored 25 points and hit two of his six three-pointers during a run that thwarted Virginia Tech's comeback try.
The win gave the Panthers (20-4, 10-3 Big East) consecutive 20-win seasons for the first time since 1987-88 and sent the Hokies to their fifth consecutive loss.
Virginia Tech (10-16, 3-10) fell into a tie with Miami for last place in the Big East's East Division.
No. 12 Wake Forest 60, Florida State 56
Tallahassee, Fla. -- Freshman Justin Gray made four free throws over the final 36 seconds and Wake Forest held onto first place in the Atlantic Coast Conference.
Sophomore Vytas Danelius led the Demon Deacons (20-4, 10-3 ACC) with 17 points, while league scoring leader Josh Howard added 14, and Taron Downey and Gray each had 12.
Tim Pickett scored 16 for Florida State (12-13, 3-11), which has lost five straight to Wake Forest.
No. 13 Xavier 80, Duquesne 78, OT
Pittsburgh -- Xavier overcame a subpar second half by star David West, a frantic bid by Duquesne and an unusual overtime.
Anthony Myles' tip-in of a miss by West in the final second sent the game into overtime, where Xavier (21-4, 12-1 Atlantic 10) opened an 80-77 lead with 2:18 remaining, only to fail to score again.
But the Dukes (9-18, 3-11) scored only one point after that.
No. 15 Syracuse 89, West Virginia 51
Syracuse, N.Y. -- Carmelo Anthony had 24 points and 10 rebounds, and Hakim Warrick and Kueth Duany each scored 18 points for Syracuse. The Orangemen (20-4, 10-3 Big East) remained unbeaten in 16 home games this season and ran their Carrier Dome winning streak to 18 overall.
The Orangemen fell behind by 15 points before rallying for a 94-80 road win over the Mountaineers 18 days ago. This time they built a 35-17 halftime advantage because West Virginia (13-12, 4-9) couldn't hit a shot against Syracuse's active man-to-man defense.
No. 17 Creighton 63, SW Missouri State 58
Springfield, Mo. -- Kyle Korver got hot when it counted, hitting two late three-pointers and scoring 23 points for Creighton. Backup forward Mike Grimes added 14 points for the Bluejays (25-3, 14-2 Missouri Valley), whose record-breaking 25th win came despite a 22-point game by the Bears' Terrance McGee.
It was the second comeback win over Southwest Missouri State (15-10, 11-5) this year for Creighton, which trailed by four points at halftime and by as many as eight points early in the second half.
No. 20 Mississippi State 59, Alabama 55
Starkville, Miss. -- Mario Austin scored 14 points, including Mississippi State's only basket in the last 7:35. The Bulldogs (18-6, 8-5) moved into first place in the SEC West.
Erwin Dudley had 15 of his 17 points in the second half for the Crimson Tide (15-9, 5-8), which trailed by 17 at one point.
No. 21 Georgia 89, Mississippi 82
Oxford, Miss. -- Jarvis Hayes scored 32 points, and Ezra Williams had 21 for Georgia (17-7, 9-4 SEC), which has won four straight games. The Bulldogs have beaten the Rebels in each of their last four meetings and lead the series 62-34.
Ole Miss (12-12, 3-10) has lost eight straight games, all against ranked SEC teams. Five players scored in double figures for Ole Miss, led by Derrick Allen's 17 points.
No. 24 Memphis 88, TCU 64
Memphis, Tenn. -- Chris Massie had 24 points and 11 rebounds for Memphis, (19-5, 10-3 Conference USA), which won its eighth straight. TCU (8-18, 2-12) lost for the 13th time in 15 games.
Massie's double-double was his 13th of the season. Antonio Burks added 13 points and 10 assists for Memphis.
No. 25 Dayton 82, Rhode Island 70
North Kingstown, R.I. -- Brooks Hall scored 20 points as Dayton rebounded from its first home loss of the season. Dayton (20-5, 12-2 Atlantic 10) shot 12-of-19 from three-point range and hit six consecutive threes during a key second-half stretch.
Copyright 2018 The Associated Press. All rights reserved. This material may not be published, broadcast, rewritten or redistributed. We strive to uphold our values for every story published.