Caracas, Venezuela — A march by thousands of anti-government protesters forced the suspension of talks aimed at ending Venezuela's political turmoil Wednesday, while the U.S. Embassy beefed up security following "credible" threats.
Marching just days after the arrest of a leader of a crippling two-month strike, the demonstrators dared President Hugo Chavez's government to jail them, waving placards reading "Chavez, your mask is off, dictator!" and "Put us all in prison!"
Talks between government and opposition delegates were scheduled to begin mid-afternoon Wednesday, but the marchers' route passed by the negotiations venue, forcing their rescheduling until today.
Protest leader Carlos Fernandez has been ordered under house arrest to face rebellion and other charges for leading the 63-day general strike against Chavez. Police are searching for strike co-leader and labor boss Carlos Ortega.
The protesters marched past the Fedecamaras business chamber of which Fernandez is president and ended at the labor confederation headquarters where Ortega is president. There were no reports of violence.
Meanwhile, the U.S. Embassy closed Wednesday after receiving "credible information of a threat to its security," a statement said. The closure came a day after two bombs ravaged Colombian and Spanish diplomatic missions, injuring four people and generating fears that the nation's political crisis was entering a more violent phase.
No one claimed responsibility for Tuesday's bombings, which blew out ceilings and twisted metal street signs. Both sides in Venezuela's conflict blamed each other and the finger-pointing threatened to undermine Organization of American States-sponsored negotiations.
Leaflets supporting Chavez were found near both blasts. They were seized on by the opposition as evidence that the attacks were carried out by government sympathizers.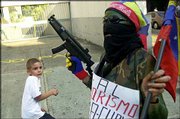 Copyright 2018 The Associated Press. All rights reserved. This material may not be published, broadcast, rewritten or redistributed. We strive to uphold our values for every story published.