Boston — For the Indiana Pacers, consecutive loss No. 6 ended with an airball by Reggie Miller.
Walter McCarty hit a go-ahead three-pointer with 24.9 seconds remaining, and the Boston Celtics extended the Pacers' longest winless streak in 10 years with a 71-69 victory Wednesday night.
After McCarty's three-pointer gave Boston a 69-67 lead, Jermaine O'Neal, who led the Pacers with 31 points and 13 rebounds, missed two free throws with 10.2 seconds left. In the final 10 seconds, McCarty and former Kansas University standout Paul Pierce each converted one free throw before Miller shot an airball at the buzzer despite a wide-open look.
Miller missed three three-pointers in the final quarter and had only nine points.
"We had every opportunity to win this game," Miller said. "We made big shots, but when it came to the biggest one, McCarty hit a three and I shot an airball."
The last time the Pacers lost six straight was Feb, 1993. They have lost nine of 13 overall.
"As a league, everyone is kind of struggling," Pacers coach Isiah Thomas said. "No one is playing exceptional basketball, but we still believe we're a good team."
Antoine Walker led Boston with 18, Pierce had 16, and Tony Delk added 14 points and nine rebounds.
"I said before the game, I don't care how many games they have lost in a row," Celtics coach Jim O'Brien said.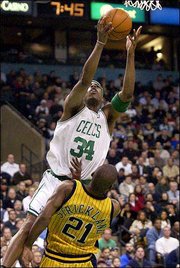 "You are playing one of the best teams in the East, and they have so many weapons that it makes it so difficult to beat them."
Ron Artest missed the game for Indiana after being suspended for the third time this season, this time by Thomas.
76ers 111, Grizzles 107
Philadelphia -- Allen Iverson scored 34 points, and Eric Snow had his first career triple-double with 22 points, 11 assists and 10 rebounds, leading Philadelphia to their seventh straight victory against Memphis.
Keith Van Horn added 21 points and nine rebounds, and Iverson had nine assists for Philadelphia, which is 7-0 since the All-Star break.
Pau Gasol tied his season high with 32 points, Jason Williams had 19, and Mike Batiste added 15 for the Grizzlies.
Nets 105, Knicks 76
East Rutherford, N.J. -- Jason Kidd scored 21 points, and the New Jersey Nets ended a season-high three-game losing streak by shutting down Allan Houston and embarrassing New York. Richard Jefferson added 17 points and 10 rebounds as New Jersey limited the Knicks to 37.2 percent shooting in handing New York its most lopsided loss of the season.
Suns 118, Bucks 112
Milwaukee -- Stephon Marbury scored 41 points, including 35 in the second half, helping Phoenix snap a four-game losing streak.
Joe Johnson added 20 points for Phoenix. Marbury surpassed 40 for the fourth time this season and the second time this month, finishing two points shy of his season high.
Hornets 91, Heat 82
New Orleans -- Jamal Mashburn had 18 points, 13 rebounds and 13 assists in the Hornets' fifth victory in six games. New Orleans took the lead for good with a 13-2 third-quarter run that began when Mashburn scored inside and ended when he hit a turnaround jumper. Mashburn also had four assists and five rebounds in the quarter to secure his second-career triple double and the first this year by a Hornets player.
Timberwolves 92, Jazz 85
Minneapolis -- Kevin Garnett scored 12 of his 24 points in the fourth quarter and added 17 rebounds as Minnesota averted a season sweep and extended its home winning streak to 15 games. The Wolves won their fifth straight and their 11th in 12 games.
Garnett struggled with his shooting for three quarters but took over in the fourth, making all seven of his shots. The crowd serenaded Garnett with chants of "MVP" in the closing seconds and waved MVP signs throughout the game.
Karl Malone scored 19 points to lead the Jazz.
Trail Blazers 94, Nuggets 84
Denver -- Ruben Patterson scored 10 of his 15 points in the fourth quarter, and Antonio Daniels also had 15 as the Trail Blazers ended a six-game losing streak in Denver. Patterson shot 5-for-6 in the final quarter, and Daniels hit a three-pointer to start a game-deciding 9-0 run as the Blazers won in Denver for the first time since Nov. 12, 1999.
Juwan Howard had 26 points and Donnell Harvey added 22 for the Nuggets, who matched a season high with their 10th straight loss.
SuperSonics 93, Hawks 76
Seattle -- Ray Allen scored 21 points in his second home game with his new team. The Sonics have won three of four since trading Gary Payton, their all-time leading scorer, to Milwaukee. Allen has played in three of those games, providing Seattle with plenty of offense by averaging 23.3 points.
The SuperSonics had five players reach double-figure scoring. Rashard Lewis and Vladimir Radmanovic scored 15 apiece.
Predrag Drobnjak had 13, and Jerome James added 11.
Bulls 103, Raptors 95
Chicago -- Jalen Rose scored 26 points, and Eddy Curry added 24 as Chicago matched last season's victory total of 21.
Rose rallied Chicago after the Bulls trailed 63-52 with 5:26 left in the third quarter, scoring 14 consecutive points.
Rose's jumper gave Chicago a 73-72 lead with 10:14 left in the game. He then hit a three-pointer to extend Chicago's lead to 83-77 with 7:27 remaining.
Warriors 108, Clippers 94
Los Angeles -- Antawn Jamison and Gilbert Arenas each scored 18 points, helping Golden State extend its winning streak to a season-best four games.
Troy Murphy had 11 points and 10 rebounds, helping the NBA's second-highest scoring team remain three games behind Phoenix for the eighth and final Western Conference playoff spot.
It's the first time the Warriors have won four straight since Jan. 27-Feb. 4, 2000 -- and the first time they are within two games of .500 since starting out 1-3.
Copyright 2018 The Associated Press. All rights reserved. This material may not be published, broadcast, rewritten or redistributed. We strive to uphold our values for every story published.