After decades as state civil servants, classified employees at Kansas University are considering a plan to develop a system of their own.
The proposal would allow KU administrators to set pay raises for 1,500 classified employees at the university. Now, KU's employees receive the same raises as all classified employees across the state.
"It's a trust issue," said Kathy Jansen, president of KU's Classified Senate. "Do we trust KU administrators to do us better than the Legislature?"
Jansen, who works in KU's purchasing department, said classified staff members in the past had discussed leaving the civil service system. The most recent discussions were spurred by KU's decision to use tuition increases to fund raises for faculty and unclassified staff, which it couldn't do for classified staff.
"Staff started getting jumpy and saying, 'Wait, there's money here, and we can't get any of it,'" Jansen said.
Ola Faucher, KU's director of human resources, said the proposal would keep classified employees in the Kansas Public Employees Retirement System, retain their sick leave and vacation time, and keep insurance benefits at the same level.
"We're trying to get the best of both worlds," she said.
How it works
The biggest change would be the way the pay system is administered. Currently, the pay scale for classified employees is set by the Legislature, with step increases based on longevity for employees who perform adequately.
Under the new system, two-thirds of any money allowed for pay increases would be given to all workers who received a satisfactory evaluation. The other third would be given to department heads to distribute on a "merit system" to employees who had exemplary evaluations. A similar system was established for graduate teaching assistants this year.
"Under the new system, Bill may get a 3 percent raise, Jane may get 4 percent, and I may just get 2," Jansen said. "The optimists among us say it'll make me work harder next year so I can get a better raise. Or the pessimists would say, 'The heck with it.'"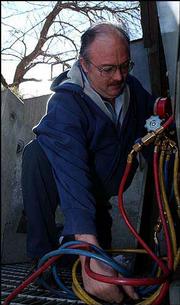 Another change would be job descriptions. Under the current system, jobs have to be listed under broad state classifications.
Provost David Shulenburger said a KU-only system would allow administrators to create job descriptions better tailored to a university environment. And it would allow KU to pay wages more competitive for the Lawrence market, he said.
Wages in Lawrence typically are higher than the rest of the state. According to the 2001 Kansas Wage Survey published by the Kansas Department of Human Resources, janitors make an average wage of $8.09 an hour in Lawrence, compared with $7.63 for the state. Secretaries and administrative assistants make an average of $13.61, compared with $12.41 for the state.
"The biggest problem is that pay scales in the current system are set statewide," Shulenburger said. "The Lawrence labor market is very different than the market in Norton, Kansas. Very often we're not able to hire people for the scales we have set."
What happens next
If the Classified Senate receives favorable feedback during meetings this week, Jansen said all classified employees would vote on creating a new system in March or April. The plan would need to be approved by KU administration and by the Kansas Board of Regents before legislation would be introduced to create the new system, possibly next year.
It's undecided whether the bill would involve only KU employees or allow all universities to create separate classified systems.
Rep. Tom Sloan, R-Lawrence, introduced a bill this session that would have created a statewide classified system for all university employees. He said he was going to withdraw the bill after meeting with KU officials Feb. 14. He said he wanted to see how KU's discussions went before moving forward.
Kansas University administrators and Classified Senate will conduct a series of meetings this week at Alderson Auditorium in the Kansas Union to discuss separating from the state's civil service system.The meetings are from 8:30 a.m. to 10 a.m. Tuesday, 2 p.m. to 3:30 p.m. Wednesday and 8 p.m. to 9:30 p.m. Thursday.
Jansen said classified employees had been reluctant to give up their civil service status in the past because they perceived they had more job security than being independent from the state. But layoffs in the past year changed that mindset, she said.
Though she's worked on the proposal, Jansen said she was undecided whether the plan should move forward. She's hoping this week's discussions help her decide.
"This is probably going to be the most important thing many staff members have been able to vote on their entire working career," she said. "Civil service is a whole culture, a way of thought. It's more than just a pay system."
Copyright 2018 The Lawrence Journal-World. All rights reserved. This material may not be published, broadcast, rewritten or redistributed. We strive to uphold our values for every story published.