Lawrence school board members knew their 160-word resolution would light a fuse.
And the ensuing fireworks over the official request for voter approval of $59 million in construction bonds have defined the primary election campaign for school board. Of 13 candidates in the race, five are for the bond and eight stand against it.
Candidate and bond opponent Samuel Gould said, "The bond issue is (an) uncreative, irresponsible, quick fix."
But according to incumbent and bond supporter Sue Morgan: "We can choose to be proactive and move forward and position our schools for a successful future or we can be paralyzed by fears, biases and narrow vision."
It's time for voters to make a preliminary cut. In Tuesday's primary election, they'll narrow the field to eight candidates who will advance to the April 1 general election.
But the primary will do more than that. It also is a trial run for the April 1 vote on the bond issue. If candidates supporting the bond package are successful, it would appear the bond has life. If foes dominate the polls, it could spell the bond's doom.
School closings
Among candidates, the most controversial element of the bond package has been a proposal to spend $4.6 million to expand Cordley School and $3.3 million to enlarge New York School.
Both projects are designed to create enough space to absorb about 150 students upon closure of Centennial and East Heights schools.
Depending which candidate is at the microphone, consolidation will elevate learning for all 600 elementary students involved in the mergers, or the consolidation will compromise education of at-risk students in the four schools and destroy the Centennial and East Heights neighborhoods.
Candidate Cindy Yulich said $1.4 million could be saved annually by shutting down Riverside School, a move that has been approved by the board, and eventually closing East Heights and Centennial.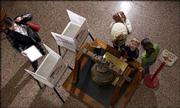 It's money the district desperately needs to avoid deep cuts at the other 15 elementary schools and seven secondary buildings, she said.
"By consolidating schools and protecting class size we can maximize resources and deliver more to our students," Yulich said.
Candidate Gordon Longabach said the district could get more for its construction dollar if it approved the bond. Interest rates on bonds are low and construction companies are hungry for business, he said.
Change coming
"Change is coming whether we want it or not," said incumbent Scott Morgan, the board's president. "The bond issue will allow us to give the students in our older neighborhoods the same quality of facility as available to those students in our newer neighborhoods."
But candidate Brent Garner said the bond unfairly eliminated schools in east and central Lawrence neighborhoods and poured millions of dollars into west Lawrence schools.
All existing elementary buildings could remain open by shifting school boundaries, he said.
"We adjust political boundaries every 10 years," he said. "Why not school boundaries?"
Candidates Leonard Ortiz and Rich Minder said consolidation would force at-risk children into larger school settings that didn't meet their academic and social needs.
"There are numerous studies that argue that small, neighborhood schools are more beneficial to students," Ortiz said.
Minder added: "We owe all the children of Lawrence a sustained commitment to the best education possible within a context of strong neighborhood schools."
Doubling debt
Candidate Michael Pomes said it was unwise to double the district's bond debt.
"The reality of a down-turned economy may make it difficult for property owners to afford additional property taxes," he said.
Passing a bond issue simply because it's inexpensive to borrow money doesn't make sense, said candidate Eddie Lehman.
"You wouldn't go out and buy a new car just because the interest rates are low," Lehman said.
Candidate Ron Powell questioned claims that consolidation would save $1.4 million a year. Even if true, he said, plowing 40 times that amount into bricks and mortar was wrong.
"Education is not just about a building," Powell said. "It's about what goes on inside the building."
There is support among candidates on both sides of the issue for individual projects in the bond package as put forth by the board. And there is general agreement that a high priority should be replacement of South Junior High School.
Candidate Cille King, who is opposed to the bond, said there were enough academic and security problems at South to justify spending $20.7 million to build a new junior high at the current site next to Broken Arrow School.
Her support for the South project is mirrored by bond advocate and incumbent Mary Loveland.
"It replaces a 35-year-old junior high building of poor design and constructed using asbestos-laden materials," Loveland said.
There's also support among candidates for upgrading the facility used by students at Lawrence Alternative High School. About $6.8 million of the bond would add classrooms, cafeteria and a gym at the school's site in Holcom Park. Those additions would allow the program to begin serving ninth-graders.
"Something needs to be done with the hodgepodge of portables and fixed structures that constitutes the alternative high school," Pomes said.
The portables
About $5.9 million of the bond is earmarked for construction projects to rid elementary schools of trailers used as classrooms. If passed, additions would replace trailers at Broken Arrow, Deerfield, Hillcrest, Kennedy, Quail Run, Sunset Hill and Wakarusa Valley schools.
Portables also would be supplanted and the cafeteria expanded with $2.5 million at Southwest Junior High School.
More than half of the candidates support infrastructure improvements at West Junior High School that would, among other things, eliminate the brown-colored water that comes out of some faucets.
Less popular among candidates are $9 million in renovations to Lawrence High School and $3.2 million for improvements at Central Junior High School.
Most of all, the board candidates agree that a big turnout is warranted for this Super Tuesday primary.
"If you vote, you have a right to complain," Pomes said.
Copyright 2018 The Lawrence Journal-World. All rights reserved. This material may not be published, broadcast, rewritten or redistributed. We strive to uphold our values for every story published.