Clearwater, Fla. — A judge Friday granted custody of two children to a female-to-male transsexual engaged in a bitter divorce and ruled that the person is a man under Florida law.
Lawyers for the former wife of Michael Kantaras had argued Kantaras was not legally a man when they married in 1989, so the marriage was invalid. Florida bans same-sex marriages and homosexuals from adopting children.
But in his 809-page ruling and divorce decree, Circuit Judge Gerard O'Brien said that under Florida law "there is no statutory requirement that the (marriage license) applicants shall prove their gender."
The law, the judge said, "provides that marriage shall take place between one man and one woman. It does not provide when such status of being a man or woman shall be determined."
The ruling confirms Michael Kantaras is the legal parent of the couple's two children -- his former wife's son, whom he had already adopted, and a daughter Linda Kantaras conceived during their marriage with donated sperm.
"I'm so relieved," Michael Kantaras said after the ruling. "Now my kids and I can get on with our lives in peace."
Legal experts said the ruling, the first of its kind in Florida, could provide a legal definition of gender in the state and give nonbiological or stepparents a legal foundation to seek visitation or custody.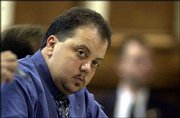 "This is an amazing decision, because the judge has overlooked the fact that he's a transsexual and looked at the best interests of the children," said Lynne Gold-Bikin, former chairwoman of the American Bar Assn.'s family law section.
O'Brien reached his decision more than a year after the three-week custody trial, which began in January 2002.
In his ruling, he noted that a court-appointed custody evaluator had determined Michael Kantaras, 43, was the better parent and that Linda Kantaras, 34, had tried to turn the children against him. The judge awarded her "liberal visitation rights."
Linda Kantaras' attorneys did not return a phone call for comment Friday.
Michael Kantaras was born Margo Kantaras in 1959. He had a sex change operation in Texas in 1986 and changed his name.
When he and Linda Kantaras married in 1989, she knew he had been a woman. Her son, from a previous relationship, was adopted by Michael Kantaras as an infant. The children are now 13 and 11.
Copyright 2018 The Associated Press. All rights reserved. This material may not be published, broadcast, rewritten or redistributed. We strive to uphold our values for every story published.