Yuri Mitchell now knows the difficulty of landing a space shuttle.
Friday at Kansas University's annual Engineering Expo, Mitchell safely guided his simulated shuttle to the ground, but he missed the runway entirely.
"It's hard," the Central Junior High ninth-grader said. "You have a lot of weight and you're just gliding."
The shuttle simulator was one of the popular exhibits at the expo, which drew more than 700 junior high and high school students from across Kansas and Missouri.
Carl Johnson, a KU senior from Baldwin majoring in aerospace engineering, said he thought the simulator would have been a big draw for students even if the expo hadn't come just weeks after the Columbia shuttle disaster.
"It's not just Columbia -- kids think (the shuttle) is cool," he said.
The expo, at Learned Hall, also featured a host of annual competitions, including one in which participants used pasta to build bridges.
Zach Maier, a junior at Central Heights High School south of Ottawa, built a bridge that held 75 pounds, one of the better performances of the day. He had three layers of horizontal lasagna with other pieces zigzagging between them.
"There's about 104 different pieces of pasta on there," he said. "We were kind of surprised it held that much."
The day started with a speech by Donald Faught, a KU alumnus who is a global vice president for DuPont DowElastomers.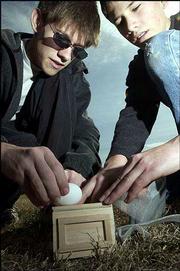 Ian Bradt, a KU sophomore from Johnston, Iowa, and chairman of the expo for Engineering Student Council, said the event's goal was to educate students and recruit them to KU.
He said the new engineering building south of Learned Hall should help attract an even larger crowd for next year's expo.
The building, which will house an auditorium and offices and labs for the electrical engineering and computer science department, will open this fall.
Bradt said the expo's success stemmed from a natural curiosity children had about the world.
"It comes from a fascination that kids have for how things work," he said. "You could be in an airplane that gets you from Kansas City to wherever, but it's different to understand why it works."
Copyright 2018 The Lawrence Journal-World. All rights reserved. This material may not be published, broadcast, rewritten or redistributed. We strive to uphold our values for every story published.