Los Angeles — Dijon Thompson rebounded his own missed shot and scored with 6 seconds remaining in overtime, lifting UCLA over No. 18 California 76-75 Thursday night and snapping the Bruins' 10-game Pac-10 losing streak.
After Cal's Amit Tamir missed, the Bruins grabbed the rebound as time ran out. Students mobbed the court in celebration of the Bruins ending an eight-game losing streak at Pauley Pavilion, where they played their 600th game in the building's history.
Thompson had 20 points and 11 rebounds for UCLA, which trailed 75-72 early in overtime after Joe Shipp hit a three-pointer for Cal. Jason Kapono, who was held to 10 points, hit two free throws to pull the Bruins within one.
The Bruins (6-16, 3-10 Pac-10) shot 56 percent in the second half, when they blew all of a 13-point lead.
Brian Wethers scored 21 points and Shipp added 18 for the Bears (18-5, 11-3), who had their four-game winning streak snapped.
No. 10 Wake Forest 75, Georgia Tech 67
Atlanta -- Josh Howard scored 24 points and Justin Gray tied his season high with 20 as No. 10 Wake Forest beat Georgia Tech.
The Demon Deacons (18-4, 8-3 ACC) shot 53 percent as a team, the first time this season Georgia Tech has allowed an opponent to make at least half its shots at Alexander Memorial Coliseum.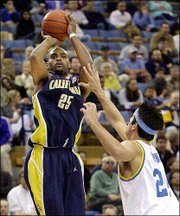 Freshman Jarrett Jack had 19 points for the Yellow Jackets (12-11, 5-7).
No. 11 Marquette 75, Charlotte 67
Milwaukee -- Dwyane Wade scored 21 points as Marquette moved one-half game ahead of Louisville atop the American Division of Conference USA.
Robert Jackson scored 15 points, Travis Diener 12 and Scott Merritt 11 for Marquette (19-4, 10-2). Demon Brown led the 49ers (10-13, 5-6) with 22 points and Curtis Withers added 11.
No. 21 Stanford 73, Southern California 67
Los Angeles -- Justin Davis scored 20 points, and Julius Barnes added 16 for Stanford.
The win was the fourth straight and eighth in nine games for the Cardinal (20-6, 11-3 Pac-10).
Desmon Farmer scored 24 points to lead the Trojans (10-12, 5-8).
Copyright 2018 The Associated Press. All rights reserved. This material may not be published, broadcast, rewritten or redistributed. We strive to uphold our values for every story published.