Topeka — Kansas policy-makers agree the Federal Communications Commission made a decision Thursday that is important to the state's consumers and their high-speed Internet and telephone services.
But it likely will be weeks or months before the full impact of the decision and its consequences are understood, the policy-makers said.
"We consider this a really key, important issue so we want to make sure we know what they did before we make any assumptions," said Kansas Corporation Commission spokeswoman Rosemary Foreman.
The FCC voted 3-2 Thursday to let states decide whether to spur competition between the regional Bell phone companies, including SBC Communications, the state's predominant telephone service provider, and their competitors.
The panel rejected arguments from agency Chairman Michael Powell and the Bells that existing federal competition rules should be eliminated.
But in another split decision the commission eased requirements that the Bells provide competing companies discounted access to fiber-optic lines for the high-speed broadband Internet service. The Bells have said there was no incentive to invest in costly new networks if competitors profited.
National consumer advocates were quick to say the FCC's decision would preserve competition for local telephone services but diminish it for high-speed Internet.
Last week, the Kansas House Utilities Committee rejected legislation sought by SBC -- House Bill 2019 -- that would have barred state regulation of broadband services. SBC told lawmakers it couldn't justify further investment in its DSL broadband system without assurance it would be free from state regulators.
SBC-Kansas President Randy Tomlin said the ruling suggested SBC broadband investment would be possible.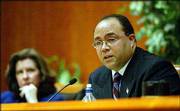 "It does appear the FCC is affirming a policy direction that would bring about certainty for broadband investment," Tomlin said. "It's our hope and I know the hope of Kansas consumers and small-business owners who want broadband deployment now that this Legislature will again consider this issue."
Most Kansas legislators involved with the issue said they hadn't had time to review the FCC decision.
But Sen. Karin Brownlee, chairman of the Senate Commerce Committee, said the FCC's action proved the wisdom of rejecting HB 2019.
"From what I understand of the ruling, it is a positive thing we didn't pass HB 2019, especially when it comes to the question of our state commission being able to make some decisions. Apparently the ruling is kind of a mixed bag," she said.
Behind the commission's ruling is a requirement that regional Bell companies lease parts of their local networks to competitors such as AT&T; Corp. and WorldCom Inc. at discount rates.
The policy was adopted seven years ago to encourage companies to compete in the Bells' markets while giving the Bells the chance to offer long-distance service in their regions.
Shares in the Bell companies all were hit hard. Qwest stock plunged 14.1 percent, while SBC stock lost 7.5 percent. BellSouth fell 7.0 percent and Verizon sank 5.0 percent.
The Associated Press contributed to this report.
Copyright 2018 The Lawrence Journal-World. All rights reserved. This material may not be published, broadcast, rewritten or redistributed. We strive to uphold our values for every story published.