Vatican City — The first documents from newly opened Vatican archives dealing with the Roman Catholic Church's relations with Germany on the eve of World War II are beginning to emerge, including a letter seeking papal intervention against the Nazis written by a famed Jewish convert to Catholicism, Edith Stein.
The letter's existence has been known for decades -- Stein wrote about it before she was killed in a Nazi death camp in 1942 -- but its text was published for the first time Wednesday in the Italian newspaper Corriere della Sera.
At the same time, other documents from the era are coming to light in the Italian media, including one some historians say is proof that Vatican did intervene on behalf of the Jews: a document dated April 4, 1933, that shows the Vatican ordered its diplomats in Germany to warn Hitler's government not to persecute Jews.
The documents have become available after the Vatican's decision to open its prewar archives to scholars years ahead of schedule in a bid to deflect criticism that it was silent in the face of the Holocaust.
The archives available to researchers as of last weekend cover the Vatican's relations with Germany from 1922 to 1939.
During those years, Pius XII -- pope from 1939 to 1958 and accused by some historians of failing to do enough to protect Jews -- was a Vatican diplomat in Germany and later its secretary of state.
At the same time, Stein was a teacher in Muenster, Germany, who joined the Carmelite order of nuns after converting to Catholicism. She had been born into an Orthodox Jewish German family in 1891.
On April 12, 1933, she wrote a letter to the then-pope, Pius XI, asking that he speak out against the "war of exterminating Jewish blood" by the Nazis.
She said Catholics "feared the worst for the worldwide image of the Church itself, if the silence continues further. We are also convinced that this silence cannot in the long run obtain peace from the current German government."
Another document that has emerged, according to the Catholic-issues news agency Zenit, is an April 4, 1933, letter by Eugenio Pacelli -- then the Vatican secretary of state and later Pope Pius XII -- instructing his nuncio in Germany to intervene after some "important" Jewish personalities had appealed to the pope "to ask for his intervention against the danger of anti-Semitic excesses in Germany."
Stein sought refuge in Holland, but later she and other Jewish converts to Catholicism there were shipped to Auschwitz to punish that country's bishops for having spoken out against Hitler. Stein died at Auschwitz on Aug. 9, 1942.
Pope John Paul II declared her a saint in 1998.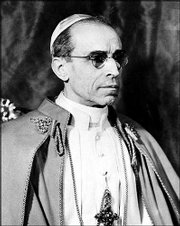 Copyright 2018 The Associated Press. All rights reserved. This material may not be published, broadcast, rewritten or redistributed. We strive to uphold our values for every story published.