The worst blizzard in seven years shut down much of the Northeast on Presidents Day with blinding, windblown snow that piled up as much as 4 feet deep and left more than a quarter of a million homes and businesses shivering without power.
At least 28 deaths had been blamed on the storm system since it charged out of the Plains during the weekend, piling snow in the Ohio Valley, producing mudslides and floods in the southern Appalachians, and making layers of ice that snapped trees and power lines.
Among those killed was an 83-year-old Pennsylvania man who sought shelter inside his parked car when his home heating system failed. Officials said he died either of hypothermia or carbon monoxide poisoning inside the car.
The storm headed for New England, where 17 inches of snow fell on Logan International Airport by 8 p.m., meteorologists said. The western Massachusetts town of Goshen had the most snow with 21 inches.
The heaviest band of snow was expected to continue blanketing Boston for at least another four hours. Up to 2 feet of snow was expected.
Travel woes
Airports for Washington, Baltimore, Philadelphia and New York largely shut down, stranding thousands of passengers trying to leave and get into the region. Amtrak's north-south service was halted between Washington and Richmond, Va., and regional bus service stopped in many areas.
The holiday meant there were few commuters, but police from Kentucky to Massachusetts pleaded with motorists to stay home and some counties banned nonessential travel so they could clear the roads.
"This is going to be days worth of cleanup," said Maryland Highway Administration spokesman David Buck.
The western tip of Maryland was buried, with 49 inches of snow in Garrett County on top of 30-foot drifts left by earlier storms. Area roads, some surrounded by 12-foot-high walls of snow, "look like canals," said Garrett County state highway supervisor Paul McIntyre.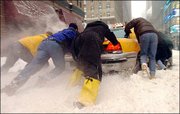 "It's no man's land out there," said McIntyre, whose office window in Keysers Ridge, elevation 2,900 feet, was entirely blocked by snow. "It looks more like Siberia than Maryland."
Elsewhere, 27 inches fell in West Virginia's Berkeley County, the National Weather Service said. The Seven Springs ski resort area on western Pennsylvania had 40 inches.
Destructive and expensive
It was one of the worst snowstorms in a century in Washington, where 16 inches fell. For the region as a whole, it was the worst snowstorm since the blizzard of 1996, when at least 80 deaths were blamed on the weather.
The heavy snow was blamed for several roof collapses in New Jersey, including one that killed a man at a job-training school in Edison. In Maryland, a roof fell in at the B & O Railroad Museum in Baltimore.
Ohio Gov. Bob Taft declared three southern counties disaster areas Monday because of the snow and ice. Disaster and emergency declarations also had been issued by governors in New York, Kentucky, New Jersey, West Virginia, Maryland and Delaware.
States had thousands of crews plowing and spreading salt. Maryland Gov. Robert Ehrlich said the storm had cost between $20 million and $30 million -- and the state was already $14 million over budget for road cleanup this season.
New York Mayor Michael Bloomberg estimated the storm, measured in Central Park at 19.8 inches by early evening, already had cost his city around $20 million. By early evening, the snow had ended in the city.
Plows built piles of snow two stories high along some streets, including Fifth Avenue near the Saks department store in Midtown Manhattan, where tourists took pictures of each other standing on the gigantic mounds of snow.
An estimated 100,000 customers lost power in West Virginia, with 20,000 in the Carolinas, 62,000 in Ohio, 96,000 in Kentucky and 6,000 in Virginia.
Weather-related deaths included two in Illinois, one in Nebraska, five in Pennsylvania, six in West Virginia, six in Missouri, one in Ohio, two in Virginia, one in New Jersey and four in Iowa.
Copyright 2018 The Associated Press. All rights reserved. This material may not be published, broadcast, rewritten or redistributed. We strive to uphold our values for every story published.