Seoul, South Korea — North Korea marked leader Kim Jong Il's birthday on Sunday by urging the military to be on alert and imploring its people to "burn with hatred" against the United States.
The anti-U.S. diatribe in the state-run newspaper Rodong Sinmun appeared at the height of government-orchestrated celebrations for Kim's 61st birthday, which included festivals, speeches and calls for patriotism.
The reclusive leader's birthday is a national holiday in North Korea, and laudatory fervor has been rising for weeks ahead of the day. On Saturday, communist party and military officials pledged their loyalty to Kim.
Rodong Sinmun, monitored by the South Korean news agency Yonhap, said the United States was pushing its nuclear dispute with North Korea "to the brink of war." Washington and its allies are pressuring Pyongyang to abandon its nuclear weapons development.
"All servicemen of the Korea People's Army should always be on the alert," the Rodong Sinmun editorial said. "All party members and workers must burn with hatred and hostility in their hearts toward U.S. imperialists."
The isolated regime has been locked in a standoff over its nuclear activities since U.S. officials said Pyongyang admitted running a secret weapons program in October. The United States suspended oil shipments to the impoverished country, which then pulled out of the Nuclear Nonproliferation Treaty.
This year's celebrations surrounding Kim's birthday coincide with a report by Japanese media that he is grooming his 21-year-old son, Kim Jong Chul, as his successor. Kim took power in 1994 following the death of his father, Kim Il Sung.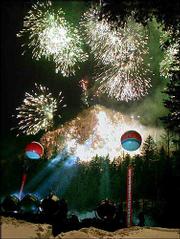 Kyodo News agency reported on Saturday that a classified North Korean military document reverentially referred to Kim's current wife Ko Yong Hee as "mother" and "loyal subject." Ko Yong Hee is Kim Jong Chul's mother.
Kim Jong Il is believed to have three children: Kim Jong Chul; Kim Sul Song, a daughter born in 1974; and Kim Jong Nam, a son born in 1971. The children all have different mothers.
The North started a similar campaign in the mid-1970s to idolize Kim Jong Il's mother when he was earmarked to succeed his father. Little is known about Kim Jong Chul, though a South Korean newspaper reported he had studied in France.
By any measure, the birthday preparations have been elaborate. The state-run KCNA news agency said that streets and buildings in Pyongyang were bedecked with posters, lights and flags of the Workers' Party of Korea. Firecrackers burst in the sky over Kim's purported birthplace, Paektu Mountain, near the border with China.
KCNA said "endless streams" of people and soldiers paid tributes at Paektu, North Korea's highest peak, which features statues and portraits of Kim and his late father. Western historians say Kim was born in Russia, but communist authorities claim he was born at Paektu, apparently to boost his personality cult.
Pressure has been building on the communist state in the past week, during which the International Atomic Energy Agency declared North Korea in violation of its nuclear obligations and referred the issue to the U.N. Security Council.
The council could consider economic sanctions against North Korea, though such a move is not imminent. Pyongyang has said that it would consider any such punishment a declaration of war.
The North is pushing for direct talks with the United States, from whom it hopes to win a nonaggression pact. Washington, however, argues that the nuclear issue is international in scope and should involve other nations.
Copyright 2018 The Associated Press. All rights reserved. This material may not be published, broadcast, rewritten or redistributed. We strive to uphold our values for every story published.