Here is the big crime news from Allen Fieldhouse so far this season:
At a basketball game earlier in the year, a man was upset about high concession prices, so he tried to buy a refreshment from a Coca-Cola vending machine in the fieldhouse concourse.
When he realized the machine was turned off -- and that it had eaten his dollar bill -- he became belligerent with fieldhouse staff and had to be removed from the building.
"You really don't see that much crime with college athletics," said Brad Nachtigal, director of facilities for Kansas University athletics. "Ninety-nine percent of people are really responsible about things."
Though they deal with an occasional obnoxious or intoxicated fan, those who provide security at the fieldhouse say their jobs usually are mundane.
But Nachtigal said that didn't mean the job wasn't important -- especially so in the aftermath of the 2001 terrorist attacks. For instance, the KU Public Safety Office sweeps the building three hours before each game.
"We've made sure everybody realized you might get a little complacent, walking your sweeps game after game after game," said Lt. Schuyler Bailey. "We really do have to look really closely."
Nachtigal said officers were looking for anything suspicious, and they occasionally point out maintenance problems to staff.
"They go in every office in the fieldhouse," he said. "They're not sitting there with a magnifying glass, but they're looking for anything out of the ordinary or strange."
Staff from Manpower, the employment agency that provides ushers and ticket-takers for the fieldhouse, does another sweep of the building about 30 minutes before the doors open to look for people who don't have tickets or credentials.
Last season was the first for KU officials to search bags, purses and coats as fans enter the fieldhouse. Manpower added as many as 15 staff members because of the extra responsibility, said Jennifer Pozzuolo, who supervises the staff.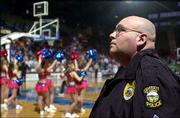 The contraband they generally find consists of cans of soda and sandwiches.
"They're very understanding," Nachtigal said of fans being searched. "I don't know of a single incident where somebody was rude about it, and I don't know of a single incident where somebody was trying to bring in something suspicious."
This is one in a continuing series of profiles on the people who make Allen Fieldhouse work. Look for a new face in the house every home game day.
Nachtigal said a crew of about a dozen officers was in the fieldhouse for a men's game. The same group is responsible for directing traffic before and after the game.
The athletics corporation pays KU Public Safety about $2,750 per game for the security work.
"You're just looking at people," Bailey said. "It's a lot of people -- 16,300 are in there. Hopefully they all get along and behave nicely. We're there to answer questions and direct people where they need to go."
One officer sits in the mobile command van south of the building, watching video from five cameras in the arena and hallways. The cameras were installed in December, Nachtigal said.
"It's just catching up with the Joneses of the (Big 12) conference," he said.
Though security has increased since 9-11, Nachtigal said, fans are generally understanding of the added measures, especially the searches.
"I think people are excited to get in the game," he said. "It's been a year and a half, and people are used to it."
Copyright 2018 The Lawrence Journal-World. All rights reserved. This material may not be published, broadcast, rewritten or redistributed. We strive to uphold our values for every story published.