Indianapolis — After 16 years in the NBA, Reggie Miller is still unmatched in coming off screens for big three-pointers.
Miller scored 26 points and hit seven three-pointers Friday night, two in the final minute of overtime, to lift the Eastern Conference-leading Indiana Pacers over Atlanta, 98-97.
"The basketball court is a pretty big place, so a lot of times defenders don't know when a lot of screens are coming," he said. "I have the luxury of playing with some very talented big guys in Jermaine (O'Neal) and Brad (Miller) who set really good screens, and that's probably the biggest reason why I get so wide-open."
Miller passed Adrian Dantley for 16th place on the NBA scoring list, and his final basket pushed his career total to 23,184 points. He has an NBA-record 2,296 three-pointers.
"When needed, they always call my number, and I'm just glad I still have the grace to come through when they need me," the 37-year-old Miller said.
He needs 154 points to move ahead of Robert Parrish into 15th place on the scoring list.
"That's why you love him. He's been making those shots forever, way before I got here," said Brad Miller, who had 17 points and 14 rebounds for the Pacers. "You think of Reggie Miller ... you think of big shots. He keeps delivering."
O'Neal finished with 16 points, 19 rebounds and four blocks. Shareef Abdur-Rahim and Glenn Robinson led Atlanta with 21 points each.
"We do good things, but loose balls and rebounds bit us again. It's very frustrating," Atlanta coach Terry Stotts said. "Our defensive effort in the second half was terrific. ... Reggie hits a huge shot to win the game. All I can say is that he is a hell of a player."
Warriors 118, Raptors 114 OT
Toronto -- Antawn Jamison scored 32 points, and Jason Richardson added 25 as Golden State won its third straight road game. The Warriors led by three with 8.6 seconds left in regulation, but Gilbert Arenas fouled Toronto's Voshon Lenard as Lenard attempted a three-pointer. Lenard made all three of his free throws to tie it with 2.5 seconds left. He went 9-for-9 from the line and finished with 26 points for the Raptors, who had their four-game winning streak snapped.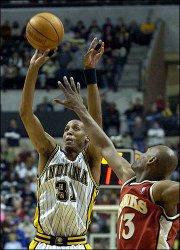 Nets 90, Bulls 72
East Rutherford, N.J. -- Kerry Kittles scored 21 points, and New Jersey broke out of its post-All-Star-break blues. Richard Jefferson added 20 points as the Nets snapped a two-game losing skid and improved their NBA-best home record to 23-2 by defeating the league's worst road team. The loss was the Bulls' eighth straight overall, their eighth in a row on the road and their 27th in 29 games away from the United Center.
T-Wolves 114, Hornets 93
Minneapolis -- Kevin Garnett had 23 points and eight rebounds in three quarters, and Troy Hudson added 22 points to lead Minnesota. The Timberwolves hit a season-high 12 of 19 shots from three-point range in earning their 15th win in 19 games and 11th in a row at home. David Wesley scored 21 points for the Hornets.
Mavericks 110, Memphis 103
Memphis, Tenn. -- Dirk Nowitzki scored 31 points, and Michael Finley added 29 as Dallas ended a three-game losing streak. Dallas handed Memphis a defeat one game after the Grizzlies ended a seven-game losing streak.
Memphis was led by Pau Gasol with 25 points.
Sixers 99, Magic 98
Philadelphia -- Allen Iverson scored 20 points, including a free throw with 2.9 seconds left, leading Philadelphia over Orlando. Derrick Coleman added a season-high 22 points, and Eric Snow had 17, including four free throws in the final minute for Philadelphia, which has won two straight since the All-Star break.
Tracy McGrady had 37 points, including a game-tying three-pointer with 8.7 seconds left, and Mike Miller added a season-high 33 for Orlando, which has lost seven of nine.
Heat 94, Rockets 82
Houston -- Caron Butler scored 24 points, and Miami held off a late charge by Houston. Steve Francis scored 27 points for the Rockets, who hit only 33 percent from the field. Yao Ming and Cuttino Mobley each had 10 points for the Rockets, and Mike James and Travis Best each had 15 points for the Heat.
Bucks 96, Pistons 86
Milwaukee -- Tim Thomas scored 21 points, and the Milwaukee held Detroit scoreless for seven minutes in the fourth quarter, snapping the Pistons' six-game winning streak. Milwaukee ran off 16 consecutive points during the Pistons' dry spell. Sam Cassell scored 16 points, and Ray Allen added 14 for Milwaukee, which has won 13 of 16. Detroit was led by RichardHamilton's 28 points.
Jazz 109, Wizards 77
Salt Lake City -- Karl Malone had 23 points and 11 rebounds as Utah welcomed back coach Jerry Sloan from his suspension and said goodbye to Michael Jordan, who won two of his six NBA titles against Utah.
Andrei Kirilenko added 20 points, and Matt Harpring scored 17 for the Jazz.
Knicks 116, Suns 115
Phoenix -- Allan Houston scored 26 points, and Kurt Thomas had 24 points and 10 rebounds to lead New York.
Stephon Marbury scored 12 of his 43 points in the final 4:21 for the Suns, but he missed a shot that could have won it at the buzzer.
Kings 110, SuperSonics 81
Sacramento, Calif. -- Keon Clark had 18 points, 14 rebounds and six blocks, and Peja Stojakovic scored 24 points for Sacramento.
Spurs 103, Lakers 95
Los Angeles -- Tim Duncan had 28 points and 20 rebounds as the Spurs became the first team to win seven consecutive games on the road.
Kobe Bryant scored 42 points -- his eighth straight game with at least 35 -- but it wasn't enough to beat San Antonio in a matchup of two streaking teams.
Shaquille O'Neal added 21 points but just five rebounds for the Lakers, who had their seven-game winning streak snapped.
Copyright 2018 The Associated Press. All rights reserved. This material may not be published, broadcast, rewritten or redistributed. We strive to uphold our values for every story published.