AUBURN HILLS, MICH. — It's motivating the Detroit Pistons that few seem to mention them as one of the best teams in the Eastern Conference.
Richard Hamilton scored 29 points as Detroit matched its best streak of the season Thursday, beating the Orlando Magic, 98-88, for the Pistons' sixth straight victory.
Detroit pulled within a game of Indiana for the best record in the Central Division and Eastern Conference. Detroit is a game ahead of the Atlantic Division-leading New Jersey Nets.
"A lot of people are still doubting us," Hamilton said. "When people talk about the East, they only talk about Indiana and New Jersey. That gives us motivation to keep striving to win."
The Pistons also won six straight Dec. 11-20.
Hamilton made 10 of 18 shots and nine of 12 free throws.
"One of our plans was to try to stop Rip Hamilton," Orlando coach Doc Rivers said. "He had another big game. I thought he should have been on the All-Star team."
Orlando's Tracy McGrady, the NBA's leading scorer, had 35 points on 13-of-31 shooting, 11 rebounds and six assists. McGrady was among the first four players chosen Thursday for the 2004 U.S. Olympic men's basketball team.
"He is just a phenomenal, phenomenal player," Detroit coach Rick Carlisle said.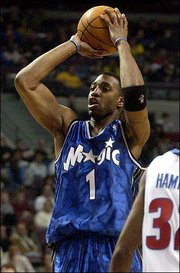 Detroit's Cliff Robinson scored 18 points, Chauncey Billups had 12 and Michael Curry tied a season-high with 11. Ben Wallace, the NBA's leading rebounder, pulled down 18 rebounds.
"It is just really tough when you get down against a team like this," McGrady said. "You use all your energy fighting hard to get back, and then once you get back, it just seems tough to try to get over the hump."
Kansas University product Jacque Vaughn scored 15 points for the Magic. Pat Garrity had 14, and Andrew DeClercq added 11.
Celtics 100, Blazers 92
Portland, Ore. -- Paul Pierce scored 36 points as Boston let a 20-point lead slip away in the second half, but recovered in the final two minutes to beat Portland.
Pierce, a Kansas University product who had been doubtful for the game after he sprained his right groin against the Seattle SuperSonics on Tuesday night, scored 20 points in the first quarter alone.
Rasheed Wallace had 30 points for the Blazers, who have lost two straight after winning 22 of 27 heading into the All-Star break.
Antoine Walker added 19 points for the Celtics.
Copyright 2018 The Associated Press. All rights reserved. This material may not be published, broadcast, rewritten or redistributed. We strive to uphold our values for every story published.