Annika Sorenstam's grand experiment on the PGA Tour might not end at the Colonial.
Sorenstam left open the possibility Thursday of further forays into men's golf if she can do what no woman has done in nearly six decades and compete successfully in a PGA Tour event.
"Right now I'm just going to leave it at one and see what happens," Sorenstam said, before adding: "I'm not ruling anything out now."
Sorenstam's future options might be limited, even though she is the dominant player in women's golf and believes she can hit it far enough to compete on the 7,080-yard Colonial course in May.
Sorenstam admitted as much in echoing a complaint that many PGA Tour pros have -- that most of today's courses are set up to favor long hitters.
"There's 90 percent of courses on the PGA Tour where I wouldn't have a chance," Sorenstam said. "It would be ridiculous to try."
Sorenstam obviously believes that isn't the case at the Colonial, a shotmaker's course that favors straight hitters like herself and where many long hitters will be using irons or fairway woods off the tees.
With Sorenstam hitting her drives 270 yards or so, that takes away some of the advantage the men might have over her.
"I hit a lot of fairways and a lot of greens. That's my strength," she said. "If I'm hitting a lot of shots out of the rough or chipping, that's not really my strength. I want to be a smart player there and put it in the middle of the fairway and on the greens."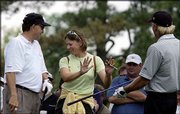 One of golf's greatest players ever gives Sorenstam a shot.
"The biggest problem she is going to have is the hard greens, which she doesn't see a lot on the women's tour," Jack Nicklaus said. "But she's a very good player. If she plays very well, would she finish in the top 20 or something? Could she win? Probably not. She's certainly capable of making the cut. She's a very good player."
In a conference call held in the wake of the Colonial's decision Wednesday to give Sorenstam a sponsor's exemption into the field, the winner of 11 LPGA tour events last season was clearly excited about her historic opportunity.
She said she plans to begin playing the back tees with men players near her Florida home in the next few weeks as she prepares for the opening of the LPGA Tour season with more than the normal sense of anticipation.
"I love challenges. I'm not afraid to go out there and try to perform my best no matter what the situation," Sorenstam said. "This is a lifetime experience to me. I want to enjoy this moment."
Still, Sorenstam claims to have no idea how she'll do when she actually tees it up in Texas.
She does know how she'll feel -- nervous, but not scared.
"I'm not afraid to face this at all," Sorenstam said. "I'm going to enjoy the journey to Colonial."
Billie Jean King, who was part of another historic event when she played Bobby Riggs in a tennis match nearly three decades ago, said the biggest problem Sorenstam will have is the uncertainty leading into the tournament.
"Annika has never been able to rehearse for this," King said. "It's extremely difficult to go through something unrehearsed."
One player unlikely to be there is Tiger Woods, who hasn't played the Colonial since 1997. Woods said Wednesday that if Sorenstam plays poorly it could be bad for women's golf.
"That's Tiger's opinion," Sorenstam said. "This is good for women's golf. This is good for me in many ways. If I can play better golf after this I'll take it back to the LPGA and I'll raise the level there."
Copyright 2018 The Associated Press. All rights reserved. This material may not be published, broadcast, rewritten or redistributed. We strive to uphold our values for every story published.