Baldwin — Four years after opening a valve to relieve growing pressure on the Douglas County Treasurer's Office, Douglas County commissioners are reversing course to help plug a budget drain.
Today is the last chance for Baldwin-area residents to visit the treasurer's satellite office at 813 Eighth St. before it closes in a cost-cutting move that has turned into a political battle.
County officials said the move would save taxpayers $17,500 this year, part of the $1.75 million budget hole commissioners are being forced to fill because of a loss of state funds.
Rhonda Banks, the county's motor vehicle supervisor, said the move was both unfortunate and unavoidable.
"It's not something that we, personally, seem to have any control over," Banks, who oversees vehicle registrations and tax payments in the Treasurer's Office, said. "We appreciated having the opportunity to do business in Baldwin, and wish it would have been possible to continue."
County commissioners thought they had worked out a deal with Baldwin's city administrators to keep the services in town. Under their plan, county residents would have been able to register their vehicles and pay their taxes to Baldwin's city employees at Baldwin City Hall.
Craig Weinaug, county administrator, said the shift would have cost the county $10,000 and would have been conditioned upon approval from the Kansas Legislature.
But Pat Wells, the county's elected treasurer, opposed the plan. She cited a conflict with state law and her "need to control" payments and registrations in the Treasurer's Office.
Once Wells raised those objections, commissioners pushed ahead with plans to close the Baldwin office.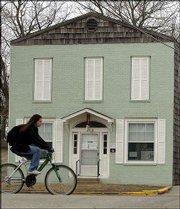 Last year, the Baldwin office handled 6,135 motor vehicle transactions -- nearly 6 percent of the total accepted by the Treasurer's Office. After the satellite office closes at 5 p.m. today, three locations will remain in Lawrence:
Douglas County Courthouse, 1100 Mass., 8 a.m.-5 p.m. weekdays.
Dillons, 3000 W. Sixth St., 7 a.m.-6 p.m. Tuesdays through Fridays.
Satellite office, 2108 W. 27th St., 8 a.m.-5 p.m. weekdays.
Customers can expect longer lines at the remaining locations, Commissioner Jere McElhaney said, but that's the price of a lean government.
Copyright 2018 The Lawrence Journal-World. All rights reserved. This material may not be published, broadcast, rewritten or redistributed. We strive to uphold our values for every story published.