Baldwin — Caroline Watkins didn't blow out candles to help Baker University celebrate its 145th birthday. She sang hymns and listened to a sermon.
Watkins, a freshman from Shawnee, was among approximately 120 people who attended the annual Founders Day Convocation Thursday in the Clarice L. Osborne Memorial Chapel.
"I think it's important because it's tradition," Watkins said. "Even though it's been 145 years, we have the same foundation. We have a lot in common."
The hourlong service featured music and a sermon by John C. Holbert, a professor of homiletics, or the art of preaching, at Perkins School of Theology at Southern Methodist University.
Holbert stressed the need for inclusion of all people and ideas at church-affiliated universities. He cited Acts 8:26-40, where a man who was both an eunuch and Ethiopian -- two categories of people not typically included in the church -- was embraced by Philip, who guided him through a passage written by Isaiah and baptized him.
"Is not a university a place where inclusion is a cardinal virtue that must be practiced and preached?" Holbert asked. "But at colleges, bigotry and exclusion still rule too many hearts."
Dan Lambert, Baker's president, noted that 2003 marked the 300th birthday of John Wesley, the founder of what is now the United Methodist Church. The Baker Chapel, which was built in 1864 and stood in England before being moved to Baldwin in 1996, was the perfect place to celebrate the United Methodist Church's influence on the university.
"It's really an opportunity to rehearse why we are what we are," he said. "The faith tradition is central to our university here. It keeps us focused on what we do. We have an obligation that goes beyond preparing people for a job."
Baker is the oldest university in Kansas. Lambert said a committee was already making plans for Baker's 150th birthday in 2008. Plans call for a book on Baker history and a financial campaign to support the university.
Bill Stephenson, a former Baker trustee and retired minister, was among those who attended Thursday's event. Stephenson, from Raymore, Mo., said it was important to keep the Methodist tradition strong at Baker.
"I think our heritage defines who we are today," he said. "If we don't remember our heritage, we forget who we are."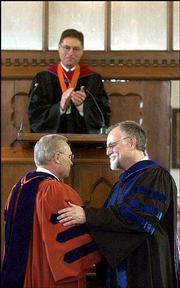 Copyright 2018 The Lawrence Journal-World. All rights reserved. This material may not be published, broadcast, rewritten or redistributed. We strive to uphold our values for every story published.