Bob Billings, a Kansas University alumnus who changed the face of Lawrence with his work as a developer, philanthropist and community leader, died Thursday at home. He was 65.
As president of Alvamar Inc., Billings helped lead the development of thousands of acres in west Lawrence. As a student athlete at Kansas University, he was a player on the 1957 Jayhawk basketball team that made it to the NCAA championship game. And as a man, friends and business associates said Thursday, his optimism and humanity touched many lives.
His most obvious legacy, though, is the development Billings created in partnership with Realtor John McGrew and Mel Anderson. Alvamar encompasses more than 3,000 acres of residential and commercial property, a nationally recognized public golf course and the Alvamar Country Club complex.
"There is a quality of life around here that would not exist if he had not been the active, optimistic, visionary, enthusiastic person he was," McGrew said. "Bob was the best, the absolute best in just about everything. ... I think history will say that Bob was one of the major influences for good in this area and the state."
Douglas County Administrator Craig Weinaug remembered Billings as different from many developers. "In negotiations with developers or somebody in the development business, normally you have to be very careful, to be sure the public interest is protected.
"With Bob, he'd often be pointing out to us the things we needed to do to protect the public interest, often to his own detriment. He was a man with an incredible amount of integrity and with an incredible love for Lawrence, and the physical evidence of that will be permanently with us through the things he accomplished."
Funeral arrangements are pending at Warren-McElwain Mortuary.
A Lawrence leader
Billings was raised in Russell, where he grew up in a house across the street from the home of Bob Dole, the future senator.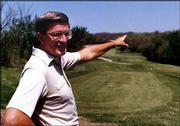 At Russell High School, Billings was a student leader and athlete. He was president of the high school student council and a delegate to Kansas Boys State. He also played basketball, football and ran track all four years in high school. As a senior in 1955, he was co-captain of the football team and was named the Kansas High School Basketball Player of the Year.
Billings came to Lawrence that fall to attend Kansas University. He stayed to become one of the city's most active community leaders.
At the university, he was a guard and played with Wilt Chamberlain on the basketball team that battled for the national championship. He was student body president, president of his fraternity and a member of Phi Beta Kappa.
His leadership at KU and in the community brought him many honors, including KU's Distinguished Service Citation in 1988 and the KU Alumni Association's Ellsworth Medallion in 1984. His honors in the community included the 1989 Leadership Lawrence Don Volker Award for community leadership, the Lawrence Chamber of Commerce Citizen of the Years award in 2002 and Kansan of the Year award from the Native Sons and Daughters of Kansas in 1989.
In addition to Alvamar, Billings was the developer of Oread West Corporate and Research Park and served on a number of corporate boards, including American Investors Life Insurance, Kansas Public Service, Reuter Organ Co. and University State Bank.
Billings' title at Alvamar Inc. was president and chairman of the board, but in a July 1999 interview he described himself as "just general flunkie."
"We have a lot of development partnerships," he said. "It's a total of about 3,000 acres -- 2,000 already developed, with another 800 to 1,000 acres to go. There's a lot going on out here."
Despite the massive project, Billings always downplayed his role in Lawrence's westward expansion.
"Lawrence is just good. We're just fortunate to be a very small part of what's going on," he said.
The name of his development honored his parents, Alva and Margaretta.
Positive attitude
Billings was remembered Thursday by friends for his positive attitude and many contributions to Lawrence and the university.
"If Bob, as bad as he might feel, could look out the window today, he'd remark about what a great day it was and put some kind of positive spin on it," said Jerry Waugh, who coached Billings on the KU basketball team and later worked for his corporation. "I never saw him down in the many years I knew him and he remained that way to the end, always up, always inspiring others and never seeing any dark side."
Monte Johnson, a former KU athletic director who had known Billings since both men were freshmen at KU, called his former teammate a "generous, caring considerate, unselfish, positive, forward-thinking human being."
"My sense of loss is tremendous, but far greater is the loss to his family, KU, Lawrence, the state and humanity in general," Johnson said. "There is no way to replace him, yet it is so important to remember his legacy and, for the rest of us and those who follow, to try to measure up to the incredible standards of outstanding citizenship and friendship he set."
Friendship was the focus of many memories expressed Thursday. Billings' friends Nelson and Judy Krueger remembered a telephone call from Billings and his wife, Beverly, after the Kruegers' grandson was killed in a traffic accident. "It was the most meaningful call," Nelson Krueger said. "They left a voice mail, and they couldn't talk; they could only cry. Bob planted a tree at Alvamar in honor of Jack within a week after Jack died."
Krueger also shared a number of photos reproduced in today's Journal-World, including one of a children's fishing contest Billings sponsored every Memorial Day at a lake on the Alvamar Golf Course. Billings didn't want any child to go away without a prize, so he gave prizes for the biggest fish, the ugliest fish, the wettest fish, anything he could think of, Krueger said. "He wanted everyone to be a winner."
Another friend, attorney Jerry Cooley, also remembered his unselfish attitude. "He has been a great benefactor to the city of Lawrence and Douglas County," Cooley said. "His developments have been prize winners for the community, and he did that without great personal gain. He plowed back into the community what others may have taken as profit."
Don Johnston, a banker and former executive of Maupintour Inc., said Billings created more than brick and mortar.
"He was a builder not just of structures but of character and goodness," Johnston said. "I'm not sure he ever had a negative thought in his life. He could dream, inspire, make things happen and make people feel good while they were striving for something positive."
Waugh, Billings' former coach, recalled, "Bob was a student of history and always remembered what Abraham Lincoln's mother told him: 'Be somebody.' Bob's mother, Margaretta, was as supportive as a mother could be and, in effect, had relayed that concept to her son. He didn't fail her. Bob, absolutely, was somebody."
Copyright 2018 The Lawrence Journal-World. All rights reserved. This material may not be published, broadcast, rewritten or redistributed. We strive to uphold our values for every story published.