When President Bush said North Korea was part of an "axis of evil," he may have sparked the Asian nation to develop nuclear weapons, a Japanese diplomat said Wednesday.
Takao Shibata, consul general of Japan, told about 60 people at Kansas University that North Korean leaders may have started a nuclear weapons program to defend themselves from an American attack.
"If you feel threatened, you may react irrationally, and that is the only reason I can think of," he said.
Shibata, who is based in Kansas City, Mo., worked for three years in the late 1990s for the International Fund for Agricultural Development, a United Nations organization. He traveled throughout North Korea and worked with leaders and farmers there on the nation's famine problems.
Shibata said it was hard to understand why a country that recorded an estimated 220,000 hunger-related deaths between 1995 and 1999 also was vying to be a nuclear superpower.
The answer, he said, may be pride, especially since many world leaders always assumed that North Korea and South Korea someday would be reunited.
Or it may be protection. But he wasn't sure that the North's nuclear weapons program would have been resurrected without Bush's 2002 State of the Union address, which included the "axis of evil" comment.
Either way, Shibata now agrees with Bush's assertion that North Korea is a threat to Asian nations, including South Korea and Japan. He said an international coalition -- led by the United States and Japan -- should find a peaceful way to end the rule of North Korean leader Kim Jong Il.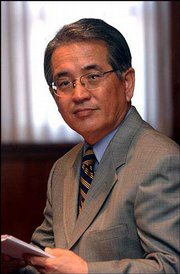 "It's in many ways a monument left of the Cold War," he said. "I certainly agree with those who think it's about time for us to tear down this obsolete monument."
Taehyun Nam, a KU doctoral student from South Korea, said he didn't think North Korea was necessarily a threat to its neighbors. Making that assumption would be the same as asserting the United States is a nuclear threat to Canada, he said.
An attack from North Korea would "guarantee the destruction of (Jong-Il's) regime," Nam said. "It doesn't make any sense. Why would you risk your life?"
Miwha Stevenson, an assistant professor of East Asian languages and culture who grew up in South Korea, said North Korea's isolation made the rest of the world more skeptical of its motives.
"That mystery is part of the problem," she said. "It's an unknown place that has dangerous weapons."
Copyright 2018 The Lawrence Journal-World. All rights reserved. This material may not be published, broadcast, rewritten or redistributed. We strive to uphold our values for every story published.