Birth control.
Day care.
You can thank Gloria Steinem and her fellow feminists for those advances, said Caroljean Brune.
Brune was among the 25 "February Sisters" who occupied a Kansas University building in 1972 after hearing a speech by feminist Robin Morgan.
Things changed at KU after that speech and what it inspired. Brune said she doubted Monday's speech by feminist Gloria Steinem would incite a similar response from today's generation of female students.
But maybe, Brune said, it should.
"I'm just as radical as I ever was," she said. "Some people say we've made progress, that we have to be patient and look at how far we've come. To me that's not good enough. There's no reason for that inequality to exist in the first place."
Brune, business manager for the KU School of Education, said Steinem's writings helped inspire the February Sisters, the group that occupied the East Asian Studies building, then near Corbin Hall.
As a result of the occupation, KU administrators agreed to start what now is Hilltop Child Development Center and a women's studies program, among other things.
But some items remain on the feminist agenda.
A KU study released late last year suggested some of the issues Steinem raised during the '60s and '70s are still issues today.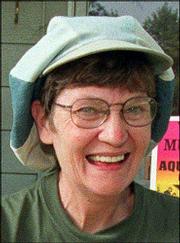 "The Status of Women in Kansas" report concluded women are paid only 72 percent what their male counterparts are paid. And only 29.8 percent of managerial positions in Kansas are filled by women.
Brune said young women today took for granted many of the things feminists fought for three decades ago.
"These kids have never lived in a time when birth control wasn't their right to have, and they have child care on campus," Brune said. "They don't understand these things are constantly being challenged and they're endangered all the time. It's all a matter of what the guys in control want to give up."
Douglas County District Court Judge Jean Shepherd remembers being inspired during her college years by Steinem, who helped bring the feminist movement to the masses by founding Ms. Magazine in 1968.
"I read the things she wrote," Shepherd said. "I'm sure she had a very big influence on a lot of women my age as far as what our options were in real life."
But Shepherd said the feminist movement's leaders didn't always reflect the passions of everyday women.
"I think people who are speaking for a movement are a little more radical than the people they are speaking for, but I think they have to be," Shepherd said.
Shelley Diehl, Douglas County assistant district attorney, also was among Steinem's admirers.
"The most striking thing about her was that she was absolutely gorgeous and came out with a political stance," Diehl said. "She was smart. She was well-spoken. It had more of an impact."
Mayor Sue Hack said she thought the feminist movement convinced people women could do jobs as well as men. If gender isn't an issue, she said, then the movement was successful.
"I hope people would elect me because they thought I would do a good job, instead of being a woman," she said. "I think the movement raised people's consciousness that women could do those jobs as well as men."
Copyright 2018 The Lawrence Journal-World. All rights reserved. This material may not be published, broadcast, rewritten or redistributed. We strive to uphold our values for every story published.