Sometimes the key to getting the job you really want is a little luck. Sometimes it's who you know.
ESPN.com minor league baseball analyst John Sickels is living proof of both.
After spending a couple of summers working as a pizza delivery driver and as a teaching assistant at Kansas University while working on his master's degree, Sickels had to think about a job for the summer of 1993.
In May of that year, Sickels' wife, Jeri, asked him what he wanted to do once his teaching-assistant position expired. He jokingly told her he wanted to work for author Bill James, who already was known for his Baseball Abstracts and Player Ratings books.
The next day, James came in to shop at the luggage store where Jeri worked. Recognizing the author, Jeri told James that her husband wanted to work for him. In need of an assistant, James gave Jeri his business card and told her to have John call.
"My wife comes home from work and she's like, 'You're not going to believe what happened. Here's Bill James' business card,'" Sickels said. "So I called him ... and we went down to the Pizza Hut on Mass Street and had lunch."
After discussing the Kansas City Royals and asking Sickels about some prospects, James had found his assistant.
"I wasn't particularly looking for someone who knew a lot about minor league baseball, but that's why I hired him," James said. "I did need to have somebody around who knew something about minor league baseball. I looked up prospects and educated myself about them and then asked John about them. He knew more about them off the top of his head than I had after researching them, and that really made an impression on me."
It's who you know
Sickels' knowledge and love of the minors turned into a full-time writing job in 1994. After earning his master's degree in 1993 and starting work on his Ph.D., Sickels was hired by James full-time after his teaching-assistant position expired.
Sickels, who still lives in Lawrence with his wife and son, Nicholas, wrote his first book, the "1996 STATS Minor League Scouting Notebook," a year later thanks to recommendations from James and other writers.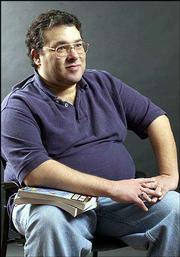 One of the people who suggested Sickels for the job was Rob Neyer, who was working at STATS, Inc. after spending four years as James' assistant.
"I actually edited the book, and that was the first time I'd worked with John and spent much time with him," Neyer said, "so I got to know him pretty well."
That relationship paid off a year later, when James had stopped writing the Player Ratings books and no longer needed an assistant. Sickels received another recommendation from Neyer, who had moved on from STATS, Inc. to write a daily baseball column for ESPN.com.
Sickels continued to write the "Minor League Scouting Notebooks" while contributing "Down on the Farm" -- a question-and-answer column about minor leaguers -- and minor league reports for each team for ESPN.com, along with other minor league-related articles.
On the road again
Living in the Midwest doesn't give Sickels many opportunities to go to minor league games, since the nearest teams before the creation of the Kansas City T-Bones were located in Wichita and Omaha, Neb.
He still attends as many games as he can in those towns, as well as back home in Des Moines, Iowa, where the Chicago Cubs' Triple-A affiliate is located.
"I absolutely love Lawrence, Kan., and I don't want to leave here, but for what I do it's not a great place to live," Sickels said. "I try to do a combination of traditional scouting and statistical stuff and try to blend them."
As if he didn't have enough work, Sickels has added a minor league prospect e-mail newsletter to his resume. He distributes the newsletter to subscribers once a week during the offseason and twice a week during the season.
He also is publishing the scouting notebook, which he has renamed the "2003 Baseball Prospect Book" after STATS, Inc. shut down its publishing arm. He is selling the book through his Web site, www.johnsickels.com.
All that work hasn't left him much time to complete his Ph.D. requirements. He passed all the oral and written exams, but has yet to finish the dissertation.
"I'm not going to get the dissertation done, but that's OK because this is more fun than history," Sickels said.
Feller analyzed
His most recent effort, the "Sabermetric Biography of Bob Feller," will be out in late spring or early summer. Sickels chose Feller as a subject because the Hall of Fame pitcher was from Van Meter, Iowa, but there were problems writing the book.
"Writing a biography about somebody who's still alive is kind of difficult," Sickels said, "especially when, like Feller, they're not exactly a saint. He's a very mixed personality. There's a lot of good things about Feller, and there's a lot of not-so-good things about Bob Feller."
Talking with Feller four times while working on the book, Sickels didn't let the former major leaguer off easy when it came to some of those not-so-good aspects of his life.
"He was very cooperative for the most part, and he answered some pretty difficult questions that I asked him," Sickels said. "I don't know if he'll be completely happy with it or not. I don't trash him, but I also don't whitewash him, either."
While Feller's opinion of the book remains to be seen, the author is pleased with his work and looks at it as a bit of unfinished business finally resolved.
"In a way, I look at it like the dissertation I never did," Sickels said. "I don't know if the history department would say the same or not, because my degree was in European history, but I'm glad I had the opportunity to do something a little bit different than the prospects stuff I normally do."
Copyright 2018 The Lawrence Journal-World. All rights reserved. This material may not be published, broadcast, rewritten or redistributed. We strive to uphold our values for every story published.