College Station, Texas — With a smile on his face and the game on the line, T.J. Ford went to the free-throw line again and again.
The Texas standout guard made a series of clutch free throws down the stretch, while Texas A&M; struggled with its chances at the line, and the third-ranked Longhorns held off the Aggies, 95-87, Saturday night.
Ford scored 19 points, including 11-of-14 shooting at the line, and added nine assists and six rebounds.
"This is the way basketball should be," Ford said. "It was tough, but we made some big baskets at the end."
Sydmill Harris added 17 points for Texas. The Longhorns (15-4 overall, 6-2 Big 12 Conference), coming off a surprising loss at Colorado earlier this week, won their ninth straight in College Station dating to 1994.
Texas A&M; senior guard Bernard King became the Big 12's career scoring leader when he hit a free throw with 11:48 left to give him 1,831 points, surpassing Marcus Fizer's total for Iowa State from 1997 to 2000.
Freshman Antoine Wright led Texas A&M; with a career-high 25 points.
Ford, who had a career-high 25 points in his last game against the Aggies (11-8, 3-5), didn't score in this one until he made a free throw with 7:52 left in the first half.
But he and Harris didn't waste much time taking over after that, helping Texas keep pace with a hyped-up Aggies team playing before a record crowd of 12,633.
"Coming down the stretch I thought we played with a lot of poise," Texas coach Rick Barnes said. "The crowd was as loud tonight as we have heard it here. ... We stayed poised and made the plays we needed to down the stretch."
Texas went ahead for good, 78-76, on Brian Boddicker's basket with 7:34 left and beat back every A&M; challenge down the stretch as the Aggies went 6-of-15 from the free-throw line in the second half.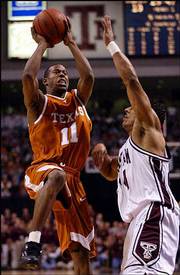 "We missed some free throws down the stretch," said Texas A&M; forward Keith Bean, who had 17 points and 10 rebounds. "We need to learn to close out games."
The Longhorns, second in the conference in rebounding margin, held a 49-36 edge on the boards. And they did it without much help from the league's leading rebounder, James Thomas, who had only five boards as he struggled with foul trouble all game.
"I think that the lack of free throws and offensive rebounds hurt us tonight," Texas A&M; coach Melvin Watkins said. "They are just a little bit better than we are right now."
Trailing 49-44 at the half, Texas went on an 11-0 run early in the second half to take a 57-53 lead. Shooting guard Brandon Mouton keyed the spurt with a couple of inside baskets.
Texas A&M; managed to rally behind Wright, who scored seven straight points to give the Aggies a 66-62 lead.
But Texas guard Royal Ivey started to get going, scoring seven straight points to help the Longhorns recapture the lead. Ivey finished with 16 points and six rebounds.
Tempers flared a couple of times, including when Bean and Boddicker tussled on the floor for a loose ball with just over five minutes to play. No technicals were given, but a personal foul was called on Bean.
"There is going to be some added emotion," Harris said. "It was a physical game. The fans were not quiet for one second."
Texas defeated the Aggies 89-61 on Jan. 18 in Austin, their worst loss of the season. The Longhorns have won 28 of their last 31 games against A&M.;
No. 7 Oklahoma 91, Baylor 42
Norman, Okla. -- Hollis Price scored 17 points and led five players in double figures as Oklahoma made a season-high 13 three-pointers in winning its 34th straight home game.
Oklahoma (16-3, 7-1) showed no rust from a weeklong layoff, winning by its widest margin since a 109-50 victory over Eastern Illinois in December, 2001.
The loss was the worst for Baylor (10-9, 1-7) since a 50-point romp by Clemson in December 1983.
The Sooners shot a season-best 58 percent in beating Baylor for the 18th straight time. The Bears lost their 22nd straight road game.
De'Angelo Alexander scored 15 points for Oklahoma, which essentially got a tuneup for its game Monday night at No. 3 Texas.
Colorado 84, Iowa State 69
Boulder, Colo. -- Michel Morandais scored 18 points, and Stephane Pelle and David Harrison each had 17 as Colorado capitalized on Iowa State's early shooting woes.
Colorado (14-7, 4-4 Big 12) also got 14 points from Blair Wilson, who was 4-for-5 from three-point range.
Jackson Vroman had 20 points and 10 rebounds for Iowa State (12-7, 2-6), which dropped its 13th straight conference road game. Jake Sullivan had 17 points, 14 in the second half.
Colorado, shooting 46 percent to Iowa State's 26 percent (9-of-35), led 39-23 at intermission.
Sullivan, Iowa State's leading scorer who had been hitting 49 percent from the floor, was only 1-for-7 in the half, including 1-for-4 from three-point range, where the Cyclones were 2-for-12.
Three ISU starters -- Sullivan, Jared Homan and Adam Haluska -- combined to go 1-for-16 in the half.
Iowa State got no closer than 12 points in the second half.
Copyright 2018 The Associated Press. All rights reserved. This material may not be published, broadcast, rewritten or redistributed. We strive to uphold our values for every story published.