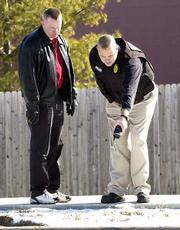 Police were investigating the report of an armed bank robbery shortly before noon Friday at a Central National Bank branch in northwest Lawrence.
The bank is located in a shopping center 711 Wakarusa Dr.
Police were searching the residential area behind the shopping center for tracks in the snow, indicating the suspect had fled on foot.
---
Return to this site for more updates, tune in at 6 p.m. and 10 p.m. to the 6News reports on Sunflower Broadband's cable Channel 6 and pick up a copy of Saturday's Lawrence Journal-World.
Copyright 2018 The Lawrence Journal-World. All rights reserved. This material may not be published, broadcast, rewritten or redistributed. We strive to uphold our values for every story published.