Michael Lee was the center of attention when the Kansas University sophomore sank three of four free-throw attempts Monday night in the final minute of the Jayhawks' 76-70 nationally televised victory over No. 21 Missouri.
It was the third time in five contests that Lee had come through at the foul line in late-game situations. A big change for a backup who was sitting at the end of KU's bench not so long ago.
"I think I've taken a lot of big steps," Lee said. "But I've got a long way to go."
He's come a long way already.
Slow start
Lee had a good view last season during Kansas University's march to the Final Four. The 6-foot-3, 215-pound guard from Portland, Ore., spent most of his freshman season on the Jayhawks' bench. He didn't play in three of KU's five NCAA Tournament games and logged only one minute in victories against Stanford and Oregon.
That tournament wasn't much different from the regular season or the Big 12 Conference tournament. Overall, Lee didn't play in 10 of KU's 37 games and averaged 1.2 points and 0.4 rebounds per game.
Lee, a first-team all-state selection a year earlier at Jefferson High, took comfort in the fact former Jefferson teammate Aaron Miles led KU through an unbeaten Big 12 season and back to the Final Four as a freshman point guard.
"As a friend, you have to enjoy your friend's success," Lee said. "Last year when things were going slow for me, at times his success is what kept me going."
Lee doesn't need to live vicariously though his roommate this season. He has emerged as KU's top reserve and is averaging 4.5 points and 2.4 rebounds for the 12th-ranked Jayhawks.
"Earlier in the year, we were looking for someone to come in to help us by not hurting us," said KU coach Roy Williams, whose team plays Saturday at Kansas State. "And I think he's the guy that stepped forward more than anybody else. He's a youngster that's really doing some nice things and giving me more and more confidence. And at the same time, I'm trying to push him so I can get more out of him."
Stepping Up
When the season started, Lee was still best known as Miles' buddy and didn't have a role of his own. He played less than 10 minutes in two of KU's first three games and didn't play at all in an 83-73 loss to Florida in the Preseason NIT.
"I still felt like a freshman at times," Lee said. "I was nervous. I didn't know what (Williams) wanted. I was playing a little indecisive. Now I'm more sure of myself. I know what he wants. I know what I'm capable of, and I'm doing it right now. I have a lot more confidence."
Lee's career took a turn for the better in the sixth game of the season. Facing Oregon in his hometown, Lee played a career-high 20 minutes. Kansas lost the game, 84-78, but Williams had found his sixth man after Lee set career highs with 11 points and eight rebounds.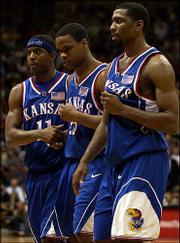 Lee, who logged double-digit minutes in one game as a freshman, has played at least 11 minutes in every game since that contest on Dec. 7. He leads KU's reserves in scoring, rebounding, assists (25), steals (17) and minutes played (14.7 per contest) -- numbers that are likely to keep rising. He is shooting 49.1 percent (28-of-57) from the field and 36.8 percent (7-of-19) from three-point range.
He's also shown a knack for clutch shooting.
In KU's 60-59 loss to Colorado on Jan. 22 at Boulder, Colo., Lee knocked down two free throws with 39 seconds left and gave Kansas a 59-58 lead.
CU's Stephane Pelle, however, sank a jump shot with 25 seconds left to put the Buffaloes back in front. KU guard Kirk Hinrich missed two shots in the frantic final seconds, and Lee missed another as time ran out on the Jayhawks.
"Two big free throws at Colorado were just huge," Williams said. "It's just a shame that his little jump shot from the baseline didn't go in. It's a shame Pelle's shot did go in because people would be talking about Michael Lee and his toughness. He's stepping up there and making those big free throws."
Lee did it again, with better results for KU, two games later on Jan. 27 at Allen Fieldhouse. With Kansas leading then third-ranked Texas 88-85 with 28 seconds left, Lee hit two free throws.
"I said to myself, 'I've been here before,'" he said. "I'm much more comfortable after those two shots. I wasn't really nervous against Texas like I was in Colorado. In Colorado I was a lot more nervous. It allowed me to relax a little more when I'm out there in certain situations. Usually I'm not in at the end of games. Now I'm prepared for that situation."
Lee's foul shots protected KU's lead in a 90-87 victory, which snapped a two-game losing streak and kept Kansas near the top of the Big 12 Conference standings.
Lee was on the floor late in the game again Saturday at Lincoln, Neb., and contributed five points and seven rebounds in a career-high 22 minutes in KU's 81-51 victory at Nebraska.
That career high didn't last long. He played 28 minutes Monday against Missouri and finished with seven points, four rebounds, two assists and two steals.
Once again, the 71.1 percent foul shooter came through in the final minute. With KU up 72-69 with 26.8 seconds left, Lee sank two free throws to give the Jayhawks a two-possession lead.
After MU's Jimmy McKinney hit one of two free throws, Lee countered by making one of two foul shots at :19.5.
Playing big
Lee filled in for Miles, who struggled with six turnovers, Monday against Mizzou. The guard also has played out of position at times since starting forward Wayne Simien injured his shoulder Jan. 4 against UMKC.
Lee played guard in high school as an underclassmen but played some forward during his senior year on an undersized Jefferson squad. He's once again forced to defend players six to seven inches taller than him.
"I like it," he said. "It's almost a nothing-to-lose situation. These bigger dudes are looked at like he's supposed to get his shot off or push me around. I take it as a challenge."
While his own role is expanding, Lee still has time to praise his old high school teammate.
"I'm happy for him," Lee said of Miles. "He's getting a chance to do what he wants to do. He's playing basketball at the highest level. He's the starting point guard for Kansas basketball, one of the top-rated programs."
Now Lee is playing a vital role in that program as well.
Copyright 2018 The Lawrence Journal-World. All rights reserved. This material may not be published, broadcast, rewritten or redistributed. We strive to uphold our values for every story published.