Washington — Edging closer to war, President Bush declared Thursday "the game is over" for Saddam Hussein and urged skeptical allies to join in disarming Iraq.
Bush said he would welcome a new U.N. resolution on Iraq if it made clear the world body was ready to use force if Saddam would not reveal and give up any weapons of mass destruction as demanded by an earlier resolution.
Britain is likely to introduce such a resolution authorizing force after top weapons inspectors return from Baghdad and report to the Security Council on Feb. 14, British and U.S. diplomats said Thursday.
Unlike Britain, France has balked at the idea of war, and Jean-Marc de La Sabliere, French ambassador to the United Nations, said Thursday, "the time has not come" for a second resolution.
"The U.N. must not back down," Bush said. "All the world can rise to this moment."
"Saddam Hussein will be stopped," Bush pledged, warning anew that the United States will act along with allies if needed. He spoke before cameras in the White House's Roosevelt Room with Secretary of State Colin Powell at his side. Behind the president was a painting of Theodore Roosevelt, who led the United States into war with Spain in 1898, on horseback.
At the United Nations in New York, the Iraqi representative, Mohammed al-Douri, said of Bush, "It sounds like he wants a resolution for war."
In Baghdad, an Iraqi arms expert submitted to a private interview with U.N. weapons inspectors, the first sign of cooperation in that area.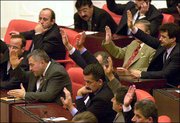 Bush ticked off a series of accusations that Powell had lodged on Wednesday in the U.N. Security Council, including authorization by Saddam to his lieutenants to use chemical weapons.
"Saddam Hussein was given a final chance," Bush said, referring to the resolution approved unanimously in November by the Security Council that launched new U.N. inspections. "He is throwing that chance away," the president said.
Pointedly, Bush did not renew past appeals to Saddam to reveal the chemical and biological weapons and the nuclear and missile programs the United States contends Iraq has.
In Paris, French President Jacques Chirac said that France's position had not been changed by Powell's presentation at the United Nations.
"We refuse to think that war is inevitable," Chirac said through a spokesman. The evidence furnished by Powell "justifies continued work by the United Nations weapons inspectors. Iraq must answer their questions and cooperate more actively," the French president said.
In London, British Prime Minister Tony Blair acknowledged he could have trouble persuading many Britons to support a war against Iraq unless the idea first won U.N. approval.
Other developments¢Turkey's Parliament voted to allow the United States to begin renovating military bases and ports, a first step toward opening the way for U.S. combat troops. The vote came after Prime Minister Abdullah Gul said Turkey had no choice but to back Washington in an Iraq war.¢NATO Secretary-General Lord Robertson gave France, Germany and Belgium until Monday to decide whether to stop blocking a U.S. request for the alliance to protect Turkey in case of war with Iraq. Under a so-called "silence procedure" agreed upon Thursday, military planning would begin automatically to deploy early warning planes, missile-interceptor batteries and anti-germ warfare units to Turkey -- unless any of the allies raised an objection by Monday morning.¢Belgium asked the European Union to call an emergency meeting to discuss a peaceful way out of the crisis. Foreign Minister Louis Michel also said Belgium was opposed to letting NATO start planning its role in any possible war on Iraq.¢The legendary 101st Airborne Division received orders to deploy overseas to "support possible future operations in the global war on terrorism," according to the public affairs office at Fort Campbell, Ky.
But Blair also said that if Iraq refused to cooperate with the weapons inspectors, and one of the five Security Council members with veto powers tried to block a vote authorizing a military response, his government may have no choice but to participate in a U.S.-led attack.
White House aides said the next few days would be dedicated to turning up pressure on reluctant allies such as France and Germany as well as other U.N. members.
Bush was silent on a timetable.
Earlier Thursday, Powell told senators at a hearing that a key to winning Security Council support would be a two-day visit to Baghdad this weekend by chief weapon inspectors Mohamed ElBaradei and Hans Blix.
Diplomatic prospects, Powell said, hinge on whether Iraq displays "a serious change of attitude and the commitment to comply that one can believe in."
His plans call for going to South Korea to attend the swearing-in of new President Roh Moo-hyun on Feb. 25 and he is also likely to go to China. The visits would give Powell an opportunity for further consultations with South Korean leaders on North Korea's nuclear program and with Chinese leaders on North Korea and on Iraq.
At the White House, Bush said, "Saddam Hussein has the motive and the means and the recklessness and the hatred to threaten the American people."
"The dictator of Iraq is making his choice," Bush said.
He suggested anew that there is a link between Saddam and the terrorist group al-Qaida.
"The same terrorist network operating out of Iraq is responsible for the murder -- the recent murder -- of an American diplomat, Laurence Foley," Bush said. Foley, a U.S. Agency for International Development official, was killed last November outside his home in Amman, Jordan.
Copyright 2018 The Associated Press. All rights reserved. This material may not be published, broadcast, rewritten or redistributed. We strive to uphold our values for every story published.